The Adventure Park at Long Island, an aerial zip lining and ropes course in the trees, recently opened in Wheatley Heights. The course has options for children and adults, from beginner to expert climber.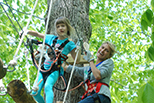 Many parents enjoy climbing with their children at The Adventure Park.
On June 21, The Adventure Park at Long Island opened its aerial forest adventure, inviting children and adults alike to spend their days climbing and zip lining through the trees. The Adventure Park at Long Island offers families the opportunity to play outside, partake in some physical activity, and enjoy nature.
The park is welcoming to people of different ages and abilities. There are eight different trails color-coded by difficulty, ranging from beginner to advanced. The trails include zip lines and challenge bridges between tree platforms for climbers to tackle. Before heading out on the trail, climbers participate in an instructional orientation to learn safe climbing procedures as well as how to put on the safety harness correctly. This park is also eco-friendly—the trees on which it is built are not harmed in any way, in fact they are taken care of by professional arborists.
"[Climbers] get a little challenge and a lot of reward," says Anthony Wellman, communications director. "People leave having had thrills as well as a feeling inside that they did something. They achieved something that they had never done before and that's what sticks with them."
The Adventure Park at Long Island is open seven days a week during the summer from 10am to 8pm to climbers ages 7 and older. Climbing costs $39-$49 depending on age but anyone who is not climbing is welcomed into the park free of charge. Reserved group events such as school and camp trips as well as birthday parties are welcomed.
Also see:
Family Outing: The Adventure Park at the Discovery Museum