Our theater editor reviews "Monkey: Journey to the West," playing at Lincoln Center in Manhattan, and dubs it a family-friendly crowd-pleaser full of fantastical costumes, sets, and choreography with impressive acrobatic and martial art displays.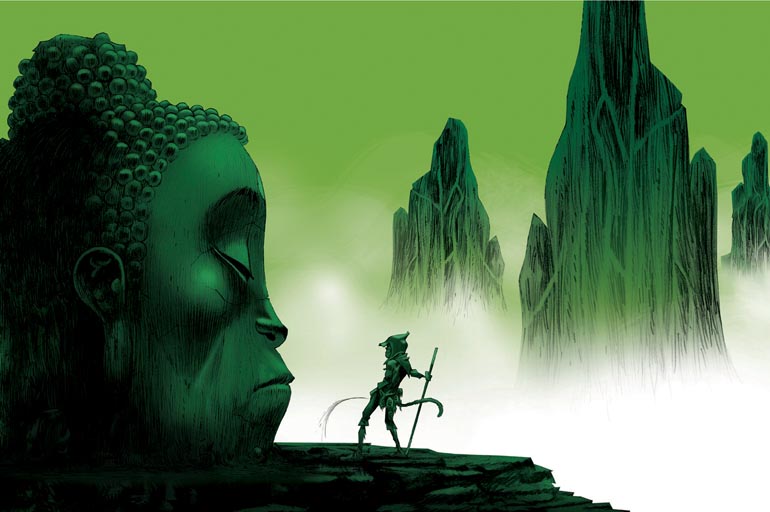 Unless you have Asian roots or a fascination with ancient Chinese literature, you probably don't know much -- if anything -- about the 100-chapter Ming Dynasty masterwork, The Journey to the West. Attributed to Wu Cheng'en, the story tracks a simian protagonist -- with an egotistical anti-hero streak -- who teams up with a young Buddhist monk and a couple of folktale misfits to traverse a labyrinth of adventures en route to Paradise.
I have a vague memory of a 1986 TV adaptation, which I caught sporadically on cable TV with English subtitles. Without knowing the epic story's origins, I still found the characters and situations mesmerizing. Which is one reason I was anxious to catch Lincoln Center Festival's much anticipated new music/theater/cirque-esque production of the tale at the David H. Koch Theatre.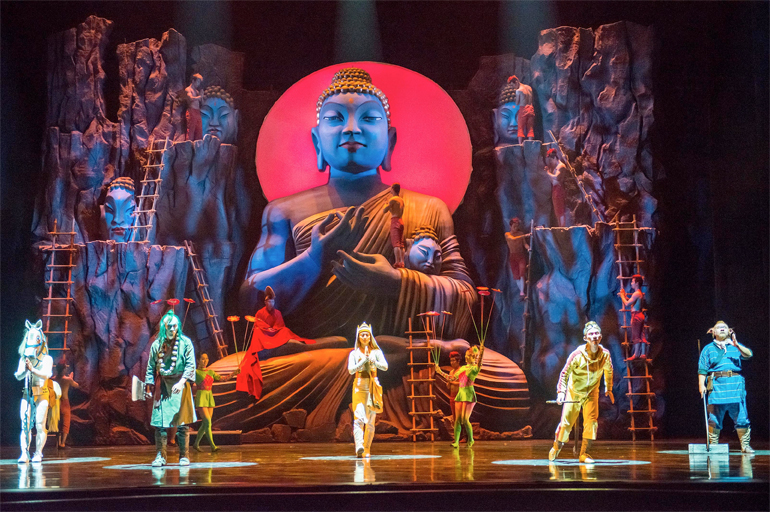 Dong Ziqiang as White Horse, Dong Borui as Sandy, Li Li as Tripitaka, Wang Lu as Monkey, Xu Kejia as Pigsy
Photo by Stephanie Berger
With its creative merging of animation (by Jamie Hewlett), fantastical costumes, sets and special effects, mind-blowing score (by Damon Albarn, lead singer of Blur), and killer choreographic, acrobatic, aerial, and martial art displays throughout, the show is a natural draw for multi-generational audiences -- from Asian moms, dads, and grandparents anxious to introduce their kids to the cherished narratives they grew up with, to Westerners wishing to expand their youngsters understanding of an exotic cultural storyline with adventure parallels to Tolkien, The Wizard of Oz, Peter Pan, and cinematic sci-fi sagas.
And while the production isn't 100 percent successful in its efforts to merge Eastern sensibilities with Western syntax (the subtitles, projected above the stage, for example, have a tendency to be heavy-handed translations of the poetic text that kids simply won't get), the language is clearly secondary to the visuals, which carry the show. In addition, the pace of this unique stage adaption -- and physical and vocal charm of the key performers -- is most definitely in keeping with our modern-day penchant to keep the eyes, ears, and imaginations moving with minimal downtime.
Photo by Stephanie Berger
The production unfolds with precision, beauty, humor, and thrilling action in nine scenes:
#1—Birth of Monkey and his quest for immortality
#2—Crystal Palace of the Eastern Sea
#3—Heavenly Peach Banquet
#4—Buddah's Great Palm
#5—The Pilgrims
#6—The While Skeleton Demon
#7—The Spider Woman
#8—The Volcano
#9—Paradise
Following the humongous novel as closely as possible in 1 hour and 40 minutes (no intermission), the performance begins at the beginning with Monkey hatching from a stone egg to assume the role of King of the Monkeys. His obsession with becoming immortal takes him to Mountain of Heart and Mind where he meets Daoist Master Subodhi, who not only shares the secret to immortality but also gives him the name "Monkey with the Realization of Emptiness" and teaches him magic.
So armed, Monkey heads to the Crystal Palace of the Eastern Sea where he demands (and gets) some superhero props -- a magic rod, armor and helmet, and cloud-hopping shoes. From there, it's off to the Heavenly Peach Banquet, where he unceremoniously chows down on the Queen Mother of Heaven's immortality-bestowing peaches and is avenged by Buddah, who traps Monkey under his giant blue palm for 500 years. When finally released -- thanks to the intervention of the "Bodhisattiva of Compassion" -- Monkey commits to becoming the protector/disciple of the devout monk Tripitaka and the two (with the monk's sidekick Dragon White Horse), hit the road to India to bring back the key to enlightenment, a.k.a. the Buddhist sutras.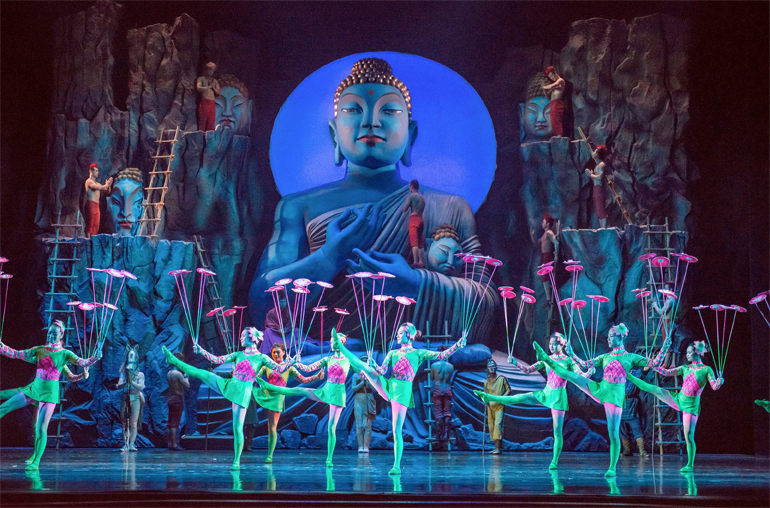 Photo by Stephanie Berger
Along the way, they add two more to their party: Pigsy, "a lustful Daoist sage," and Sandy, a former heavenly general who is found in exile in a river of sand. [In Wizard of Oz parlance, we're talking Triptika (Dorothy, played by a woman); White Dragon Horse (Toto); Monkey (Scarecrow); Pigsy (Lion); and Sandy (Tin Woodsman).
From there it's a safari of epic escapades spanning, we're told, 81 years. (Apparently everyone's been munching on the immortality peaches, because when they reach the grand finale in Paradise they've all managed to maintain their youthful good looks.)
Checking out the audience at intervals, I could see that the kids (a good 40 percent of the crowd), were totally caught up in the action (very cool circus, gymnastic and martial artistry throughout) and special effects. So aside from young toddlers, I have no problem recommending you make this show a family affair.
You'll want to do it quickly, though -- Monkey: Journey to the West's limited run ends July 28. Unique and spectacular, Monkey offers theatregoers a rare opportunity to lose themselves in a piece of literature that has been cherished for centuries, with a powerful message of friendship and redemption.
The Details
What: Monkey: Journey to the West
Where: Lincoln Center's David Koch Theater, 20 Lincoln Center Square (Columbus Avenue at 63rd Street), Manhattan
Tickets: $25-$250. Purchase four tickets to any performance and save 25 percent. You'll also receive a Monkey Around Pass for additional savings on food, beverage, and more at the performance. Note: Discount excludes full-priced tickets of $25 and $250 and above.
Recommended Ages: 6 and older
Running Time: 1 hour and 40 minutes (no intermission)
Running Dates: Now through July 28
Reservations: 212-721-6500 or visit monkeyjourneytothewest.com
From the Program: "Note From the Director"
When I was a child during the Cultural Revolution, all books other than those that pertained directly to the Revolution were banned, presumably ridding the country of feudalistic and foreign ideas. My father had a friend in Changsha, a former librarian, who sometimes looked after me. One day, while hiding from gunshots in the street, I found a box under the bed, and in it was the Chinese classic, Xi? yóu jì (Journey to the West). I was about eight years old and could only understand about half of the classical characters in which it was written, but it captivated me completely. It was a magical tale about a little monkey who could transform himself into different creatures and conquer all the obstacles in his life. It instantly transported me out of a horrific situation and into a better place.
When I moved to the U.S. in 1987, I saw Star Wars and heard fanciful stories like Lord of the Rings, and I wished everyone could know of the wildly imaginative, Chinese story about the Monkey King and his journey to the West. I never really for- got about this idea. When I first spoke to Jean Luc Choplin at Paris' Théâtre du Châtelet, he immediately commissioned me to direct my own vision of Journey to the West for the Châtelet. Then, Alex Poots from Manchester International Festival introduced me to our composer, Damon Albarn, and our designer and ani- mator, Jamie Hewlett.
I invited them to go to China with me, experience the beauty and traditions in rural life, and see the tremendous changes in cities like Beijing. Like pilgrims, we climbed the sacred mountains to see Buddhist monuments. In the end, we decided to collaborate on this fantastical spectacle.
This production, like the book itself, is a mix of reality and illusion. The "West" in the title is India, for the tale is set in China and tells the story of a legendary Buddhist pilgrimage that took place during the Tang Dynasty (though the book dates from 1592 in the Ming period). The main character, the Monkey King, protects a devout Buddhist monk on a quest to bring Holy Scriptures back to China and save the country from decadence. The subject of much scholarship, the book is often seen as an allegory that mixes Buddhist and traditional Chinese religious Daoist thought along with a critique of society. Our Monkey: Journey to the West retells this 400-year-old story in the hope of bringing it into the 21st century for new audiences around the world. —Chen Shi-Zheng