TOFU PUMPKIN BREAD RECIPE
Related:
tofu pumpkin bread
,
healthy pumpkin bread recipe
,
pumpkin bread dessert
,
dessert made with tofu
,
fall dessert idea
,
Who doesn't love pumpkin-flavored desserts in the fall? Most sweets made with pumpkin are notoriously high in saturated fats, but there is an alternative ingredient that can lighten up your favorite recipes: tofu!
This new recipe from House Foods for Tofu Pumpkin Bread results in a fragrant loaf loaded with cinnamon and ginger. The not-so-secret ingredient is creamy tofu, which makes a perfect substitute for sour cream, mayonnaise, or heavy cream.
House Foods tofu is non-GMO verified, kosher, and gluten-free. It is available in various firmness ranges, from soft to extra firm, but soft tofu works best in this recipe.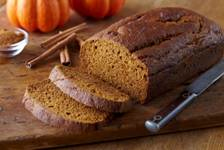 Total Time: About 2 hours
Makes: 1 loaf (about 10 servings)
Ingredients:
½ package premium or organic tofu (soft), drained
½ can pumpkin
½ cup vegetable oil
¼ cup water
1 cup sugar
1 tsp. vanilla
1 cup wheat flour
1 cup all purpose flour
3 tsp. baking soda
¾ tsp. salt
3 tsp. pumpkin spice
Dash ginger
Directions:
1. In a blender, combine pumpkin and tofu. Puree until smooth and transfer to a large bowl.
2. Add sugar, vegetable oil, water, and vanilla to tofu mixture
3. In a separate bowl, whisk together flour, baking soda, salt, ginger, and pumpkin spice.
4. Combine dry and wet ingredients. Mix thoroughly and pour into loaf pan.
5. Bake in preheated oven for 1 hour at 350 degrees.
Cool about 1 hour before serving.
Nutrition Facts (per serving): Calories 140; Total Fat 6g; Saturated Fat 0g; Cholesterol 0mg; Sodium 280mg; Carbohydrates 20g; Fiber 1g; Sugar 10g; Protein 2g
Recipe courtesy of House Foods. For more recipes starring tofu, visit house-foods.com/recipes.
---
Get Your FREE Indoor Activity eGuide!
---
More Food & Nutrition Articles
Easy Holiday Dessert: Frozen Pumpkin Pie with Graham Cracker Crust
Witches Brew Recipe for Halloween by MOMables
Halloween Treats: Eyeball Cake Pops, Monster 'Toes,' and 'Rotten' Apple Punch
5 Tips for Cooking with Kids Who Have Special Needs
Easy Recipe for New Cooks: Creamy Tomato and Rice Basil Soup