Before considering graduating your child from a booster seat in the car, make sure you know the child car seat and booster seat requirements to keep your son or daughter safe on the road.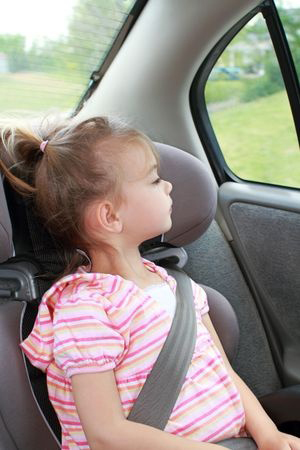 What are the age requirements for children to be in car booster seats?
As of 2009, New York requires all children under the age of 8 years of age to use an appropriate child safety seat, which includes a booster seat. However, this is the minimum requirement, and many children are much better off using a booster even after they turn 8.
According to pediatric physicians, children should use a booster seat until they are 4 feet 9 inches tall, which the majority of children don't reach until they turn 10 or 11. Without a booster seat, a child can suffer serious internal or spinal injuries in an accident if the seat belt rides up onto the soft stomach area instead of staying on the hipbone and thighbones. Between the ages of 3 and 9, children are at the greatest risk of sustaining Seat Belt Syndrome. This is a pattern of intra-abdominal and spinal injuries caused by the improper fit of a seat belt. Booster seats also help to make sure the seat belt properly passes across the chest of the child, not across the neck or throat.
Kids should not transition from a child safety car seat to a booster seat until their ears reach the top of the back of the car seat; their shoulders rest above the slots for the harness straps; or they exceed the recommended weight limit of typically 40 pounds.
At times it may be a battle, but since car accidents are the number cause of fatalities of children between the ages of 4 and 7, we should always make sure that they are properly secured in our cars. The safety of our kids is worth fighting for.
Mark T. Freeley, Esq., of The North Shore Injury Lawyer, graduated from Hofstra University School of Law and is able to practice in New York and New Jersey. He currently practices personal injury litigation in Woodbury.
Also see:
All About Infant Car Seat Safety
Car Seat Inspection Sites in the NY Metro Area