ASK THE EXPERT: HOW CAN I REMOVE STUBORN HALLOWEEN MAKEUP
Related:
remove halloween makeup
,
what makeup to buy for children for halloween
,
preparing face for halloween makeup
,
We spoke to NYC dermatologist Ariel Ostad, M.D., to find out what kind of makeup to buy for children for Halloween, the best way to remove makeup, and how to prepare your child's face for makeup.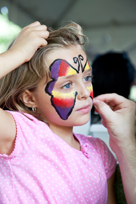 What kind of makeup should I buy for my child for Halloween?
There are two types of makeup—water-based and oil-based. I think it's really important to purchase a water-based makeup because children's skin is very sensitive and it's easier to remove. The problem with oil-based makeup is that it can really clog pores and cause acne, rashes, or allergic reactions.


What is the best method for removing stubborn Halloween makeup?
With water-based makeup, just a simple, gentle cleanser. There are a lot of over the counter cleansers. I love Cetaphil cleanser and CeraVe cleanser, which allow the water-based makeup—with warm water and a gentle face cloth—to be removed easily.
With an oil-based makeup, you just have to keep washing the face. There are products that can remove oil-based makeup, but they are a bit harsh on the skin. I'm afraid they can get into the eye and cause damage to the cornea. I would still recommend that you just use a gentle cleanser. It may require multiple washings and it ultimately leaves the skin very dry and irritated.


Is there anything I should do to prepare my child's face for makeup?
Moisturizing is such a critical step that most people tend to ignore because they don't have the time. But its so important because for skin to function properly, it needs to have a layer of moisture on it. If you don't moisturize and you're skin is already dry and irritated, you can develop sensitivities, rashes, hives, or eczema. So moisturizing prevents those rashes from occurring, it keeps the skin youthful, makes the skin look good, and prevents the skin from getting irritated.
Ariel Ostad, M.D., is a board-certified dermatologist and dermatologic surgeon and a fellow of the American Academy of Dermatology. Dr. Ostad is currently a clinical assistant professor of dermatology at NYU Medical Center and practices dermatology on the Upper Ease Side.
---
Get Your FREE Indoor Activity eGuide!
---
More Halloween Articles Articles
7 Tips for Trick-or-Treating with Your Toddler
New Book Encourages Kids to Give Up Halloween Candy
Halloween Activities in Bucks County, PA
DIY Alien Monster Egg Halloween Decoration
Toddler-Friendly Halloween Events in Fairfield County, CT