At the Town of Ramapo Challenger Center, formerly known as the Lower Hudson Valley Challenger Center, kids can become astronauts for a day and families can go on space missions to the moon, Mars, and beyond.
"What do you want to be when you grow up?" Chances are you know at least one child whose answer to that age-old question is "an astronaut!" Ever since Neil Armstrong first set foot on the moon more than 40 years ago, countless kids have dreamed of doing the same. While NASA may have shuttered its space missions for now, the Town of Ramapo Challenger Center (also known as the Lower Hudson Valley Challenger Center) invites kids and adults alike on monthly public missions to space.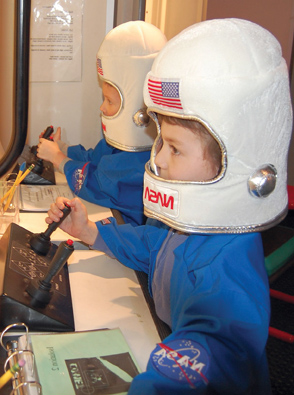 On Public Space Missions, kids learn about science and engineering along with communication, problem-solving, and decision-making skills.
The center is part of the Challenger Learning Center Network, one of about 50 centers powered by a nonprofit education organization that creates dynamic, hands-on exploration and discovery opportunities for young students with the goal to strengthen their interest in and knowledge of science, technology, engineering, and math. It's one of four Challenger Centers in the New York metro area, but it's the only one that currently offers its programs to the general public. The other three centers, located in Lower Manhattan, Paramus, NJ, and Bridgeport, CT, offer their programs only to groups, including school field trips and birthday parties. Kids and families who visit the Town of Ramapo Challenger Center can embark on an interactive learning experience that allows them to perform the same tasks performed by real scientists, engineers, researchers, and astronauts.
Public Simulated Space Missions
Small groups can drop by on the third Sunday of the month to join a simulated space mission to the moon, Mars, or a comet. Visitors are divided into two groups, with half assigned to be engineers and scientists in the mission control room and the other half assigned to be astronauts on the "spacecraft." Participants switch places halfway through the mission, so each person gets the full experience. Just like real astronauts, you'll attend a briefing session then select tasks to perform on the mission: navigation, medical, communication, or life support. The key is teamwork, which means that participants have to work together to complete a successful mission.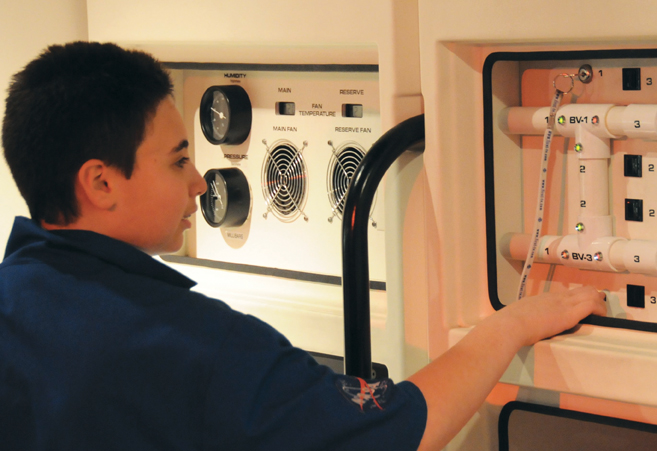 The core of each Challenger Center is an interactive, computerized simulator with a mission control room patterned after the NASA Johnson Space Center and an orbiting space station ready for exploration.
Public Planetarium Programs
On the second Sunday of each month, visitors can step into the Challenger Center planetarium and travel to the planets and moons of our solar system, explore the lifecycle of stars, learn some ancient myths about the constellations in the sky, walk on the moon like an astronaut, and observe comets, meteors, eclipses, nebulae, galaxies, and black holes. Following the show, participants can enjoy a hands-on astronomy-related project in the center's activity room.
Note: Programs are recommended for ages 9 and older, but children younger than 9 are welcome when accompanied by an adult. Reservations are strongly recommended for both programs.
Other Offerings
The Challenger Center also offers after-school programs including a Lego Academy for children in grades 1-8, birthday parties with simulated space missions, and summer camp. See website for details.
Details
Address: 225 Route 59, Airmont
Price: $10 per program; $5 seniors and children ages 8 and younger (when accompanied by a paying adult)
For more information: 845-357-3416; lhvcc.com