If your child has lice, they might feel embarrassed. Local experts weigh in with what to say to your child so he can cope with the stigma of lice, as well as reasons why you shouldn't feel ashamed about him having lice.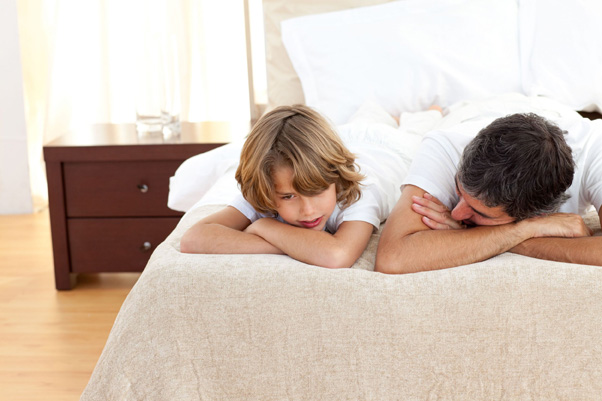 What can I say to my child who has lice so he doesn't feel bad about having it?
We always just try to say, "Everyone gets this, and it's not a big deal. Don't worry we're taking care of it." To make the kids feel better we tell them that lice like clean hair over dirty hair. And you probably got it because you're a clean person.
—Anna Albano-Krosche, The Lice Lady of Westchester, whose salon is located in Elmsford, NY
They can say that this is something you got from another child. You must have hugged your friend. It happens to everybody, it's nothing to be ashamed about, and we're going to get rid of it. It's part of life. It's like getting a cold. You got lice, its just part of growing up.
—Carol Gilbert, president of Fairy LiceMothers, which has locations in Oceanside and Deer Park, NY
I would just assure the child that it's very common. It's just like getting a cold. Everybody gets a cold or the sniffles, so it's nothing to be worried about. And just reassure them that everything is going to be fine.
—Chris Cerverizzo, owner of Lice Miracles, which is located in Bellmore, NY, and serves New York City and Nassau and Suffolk counties
How do I deal with the shame or embarrassment of my child having lice?
It happened, it doesn't mean that you're a bad parent. It doesn't mean that you're dirty. It has nothing to do with your parenting skills. Your child had the unfortunate circumstance of touching heads with somebody else that had it. Because that's how lice are spread—head to head contact. —AAK
Once you start talking about it, you'll realize that this isn't something you're dealing with alone. This happens to everybody. It's a human parasite. In order to get lice, you have to be a human being. It has nothing to do with being dirty. Then you will feel better once you start talking to people and you realize that everyone has had some experience or knows somebody else who has lice and it should not be a source of embarrassment. —CG
No body should be ashamed of this problem. It's a very common problem, just like having a common cold. Every body gets head lice at one time or another in their life, so you shouldn't feel embarrassed. The best thing to do is talk about it. You'd be very surprised how many people in this world have head lice and don't talk about it because they're ashamed. But they really shouldn't be ashamed because it's very common. —CC