A list of the 6 best hills for sledding in Manhattan, including three on the Upper East Side, two on the Upper West Side, and one in Hamilton Heights, all of which are overseen by the New York City Parks Department.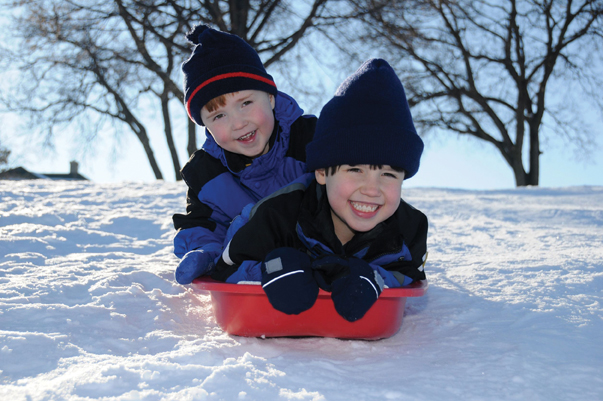 When the air gets chilly and snow covers the ground, it's instinct to head outside and make snow angels, throw snowballs, and of course, hit the hills with a sled. Easier said than done in our big city, though. Unlike our friends in suburbia, most of us city-dwellers don't have the perfect hill in our backyard…which is why we've put together a list of the absolute best sledding hills around the city for you and your kids. So what are you waiting for? Last one up the hill is a rotten egg!
The Best Kept Secret
Carl Schurz Park, East End Avenue and 84th Street, Upper East Side
This naturally breathtaking sledding hotspot runs along the East River and welcomes children of all ages. The family pets can even join in on the fun as this park hosts two dog runs.
The Black Diamond
Morningside Park, Manhattan Avenue and 110th Street, Upper West Side
This park is known for its notoriously steep hill, perfect for daring sledders. Playgrounds may be found at the bottom of the hill and after-school help is offered at the park on weekdays.
The Perfect Spot
Pilgrim Hill, Central Park at 72nd Street, Upper East Side
Most Central Park visitors believe this to be the best sledding spot in the city because of its perfectly steep slope found just below the Conservatory Water. At the bottom of the hill, you will find the ideal picnicking spot.
The Long Ride Down
Cedar Hill, Central Park from 76th to 79th streets, Upper East Side
Cedar Hill offers plenty of room for long, adventurous sled rides. From the top, you can view the Glade Arch and the beautiful red cedars for which it is known.
The Skater's Swap
Riverside Park, Riverside Drive and 90th Street, Upper West Side
As its name suggest, this park rests on our scenic western waterfront. Sculptures, movies, artwork, and children's shows may be found year-round, while the seasons call for an exchange of roller-blades for ice-skates and skateboards for sleds. The bicycle and scooter trail becomes a sledder's dream in the winter months.
The Easy Run
St. Nicholas Park, St. Nicholas Avenue and 127th Street, Hamilton Heights
Hills here are average in incline and should prove perfect for the beginner. Playgrounds may also be found here in abundance.
The New York City Parks mandate that 4 to 6 inches of snow must be on the ground before anyone can sled down these hills. For more information about the parks, visit nycgovparks.org or call 212-639-9675.
Also See:
Indoor and Outdoor Ice Skating Rinks in NYC and Beyond
Where to Ski and Snowboard in NY, NJ, CT, and Beyond