UPDATED NOVEMBER 2013: Where to see The Nutcracker ballet in NYC, including 11 kid-friendly performances in Manhattan, Brooklyn, and Queens, from classic shows at Lincoln Center and Florence Gould Hall in Manhattan to other versions in Fort Greene and Midwood in Brooklyn, as well as Long Island City in Queens.
Peter Tchaikovsky's The Nutcracker, based on E. T. A. Hoffman's novel The Nutcracker and the Mouse King, first premiered at the Imperial Mariinsky Theatre in St. Petersburg, Russia on Dec. 18, 1892—and it wasn't exactly a hit. Now, more than 120 years later, the show is a holiday theater staple, with several annual iterations in New York City alone.
Here are our top 11 performance picks for the 2013 season:
Brooklyn
Whimsical and Wonderful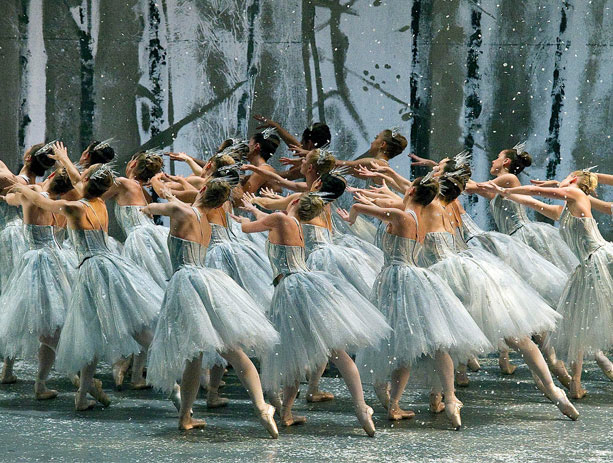 Brooklyn Academy of Music, Fort Greene
Dec. 13-22
Magical toy soldiers, sparkling snowflakes, mischievous mice, and all the enchanting inhabitants of E.T.A. Hoffmann's whimsical world return to BAM for the winter holidays in this acclaimed production of The Nutcracker, presented by the renowned American Ballet Theatre and choreographed by ABT Artist in Residence Alexei Ratmansky. Performed with a live orchestra, together with extraordinary sets and costumes by Tony Award-winner Richard Hudson (The Lion King), The Nutcracker is bound to be a treasured memory for years to come.
Especially for Little Ones
Brooklyn Center for the Performing Arts, Midwood
Dec. 15
Dance Theatre in Westchester performs its family-friendly version of Tchaikovsky's ballet set in wintry colonial Yorktown, complete with a red-coated mouse army, an enchanted nutcracker prince, and simultaneous narration to help young audience members enjoy this classic ballet.
Manhattan
Big Apple Classic
David H. Koch Theater at Lincoln Center
Nov. 29 - Jan. 4
Choreographed by the New York City Ballet's founder, for whom the show is named, G. Balanchine's The Nutcracker was originally performed in 1955. Danced to the original score, and performed by the entire NYCB company including all 90 dancers, 62 musicians, a slew of stagehands and two casts of young students, this version of The Nutcracker is all about tradition. You'll be swept away to a world of holiday fantasy where mischievous mice besiege a battalion of toy soldier. Follow a young heroine on her adventure to find true love. Now, nearly 60 years after it's original performance, this magical meld of music and movement is still performed by the NYC Ballet every year.
A Hint of History
Kaye Playouse at Hunter College, Upper East Side
Dec. 5-8
Explore Olde New York at Christmastime with The Yorkville Nutcracker. Set in 1895, this unique take on Tchaikovsky's holiday classic takes viewers on trip back in time where they'll experience a holiday party at Gracie Mansion, dancing at the Crystal Palace in the New York Botanical Garden, and skating in Central Park. Running time: 1 hour, 30 minutes.
Back to St. Petersburg
Symphony Space, Upper West Side
Dec. 7 (two shows)
Inspired by productions put on by Russia's famed Kirov Ballet, DCPP Presents The Nutcracker with two full-length performances featuring original choreography by the Dance Conservatory Performance Project's founder Valentina Kozlova.
One For the Kids
The Town Hall, Times Square
Dec. 11
Embark on a trip to the Enchanted Forest and catch a glimpse of the Kingdom of Sweets with Ballet for Young Audiences' The Nucracker. An easy-to-follow narration accompanies a rapid succession of high-energy dances in this condensed, kid-friendly performance for all ages.
One By the Kids
Skirball Center, Greenwich Village
Dec. 13-15
In this full-length, two-act version of the seasonal special, the Joffrey Ballet School Presents The Nutcracker featuring a talented junior cast of dancers from its Children's and Young Dancer Program as well as guest artists from the Joffrey Concert Group.
Downtown Dancers
The Michael Schimmel Center for the Arts, Lower Manhattan
Dec. 12-15
Lower Manhattan gets a healthy dose of holiday dance with the inaugural production of Gelsey Kirkland Ballet's The Nutcracker. Taking on Hoffman's mythology for the first time since it was founded in 2012, the Gelsey Kirkland Ballet promises a performance rich with symbolism and emotion.
Unique New York
Manhattan Movement & Arts Center, Upper West Side
Dec. 13-15 and Dec. 20-22
Perfectly peppered with iconic Big Apple landmarks, The Knickerbocker Suite has all the full flavor of the classic holiday ballet with a New York twist.
Outside the Box
Florence Gould Hall, Upper East Side
Dec. 14-15 and Dec. 22
Crowds will be thrilled as Keith Michael's presents this edgy take on the Christmas classic, choreographed specially for the New York Theatre Ballet and performed to Tchaikovsky's original score. Now in its third year, Keith Michael's The Nutcracker is on its way to becoming a holiday staple in the Big Apple. Dec. 14-15 and Dec. 22. 11am, 1pm, and 3:30pm. $40; $35 for children ages 12 and younger. Florence Gould Hall, 55 E. 59th St., Upper East Side. 212-355-6160. nytb.org.
Queens
A Christmas Twist
LaGuardia Performing Arts Center, Long Island City
Dec. 14
Clara travels with the help of music, dance, and imagination. Her godfather, the mystical clockmaker, Herr Drosselmeyer, is the one responsible for sending Clara on this exotic trip across time with the Nutcracker Prince. Get an injection of holiday cheer, as Clara, Old Drosselmeyer, and the Nutcracker Prince take a frolicking musical journey that happens only once a year. Just when the kids think the excitement has ended, they can visit Santa in the magical toyland. Each child will receive a special gift from Santa.
More Fun
Search for more fun family activities in NYC and beyond in our full calendar of events