WIN: CUTE AND FUNCTIONAL DRESS-UP BAG FOR KIDS PLUS CRAFT KIT
Related:
trick or treat bags for kids
,
halloween bags for kids
,
halloween costume accessory for kids
,
costume accessories for kids
,
Fun and functional, this eco-friendly drawstring bag allows your kids to collect all their candy from trick or treating while doubling as a costume with fairy wings or butterfly wings. Win these bags from Merah Mudah plus a craft kit to make fairy wands via Kiwi Crate and NYMetroParents.
Created by a wife, mother, and artist, Misha, Merah Muda bags reuse fabrics and offer kids (and adults) a lightweight and whimsical way to tote around all their goodies, including Halloween treats collected while trick-or-treating.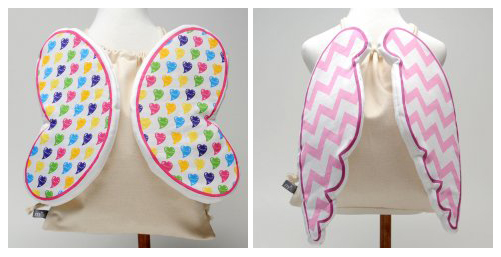 Each bag is created using 100-percent organic and repurposed fabric. The drawstring bag comes with a pair of angel or butterfly wings that can easily be buttoned on or off with adjustable straps for kids ages 3-8. Merah Muda also offers the option of buying multiple sets of wings featuring different patterns and colors.
GIVEAWAY
NYMetroParents, Merah Muda, and Kiwi Crate are giving one lucky winner two Merah Muda bags and a Fairy Kit Craft kit from Kiwi Crate. A winner will be selected Monday, Oct. 15.

For more Halloween giveaways, activities, and tips, visit nymetroparents.com/halloween.
---
Get Your FREE Indoor Activity eGuide!
---
More PRODUCTS Articles
Holiday Fashions for Boys and Girls
Photographer Behind Humans of New York Releases Children's Book
New Book Encourages Kids to Give Up Halloween Candy
Runnin' Wild Kids Shoes Owner Opens Toy Store
Top 10 Audiobooks for Halloween Season