Win three books by award-winning author Carole P. Roman, including two of from the Captain No Beard series.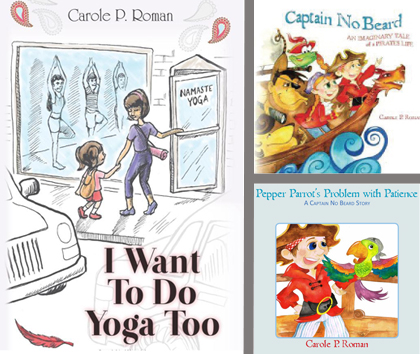 Enter below for your chance to win all three books!
A former teacher turned businesswoman, Carole P. Roman has penned children's books that inspire adventure and curiosity. "Captain No Beard: An Imaginary Tale of a Pirate's Life," the first-ever Captain No Beard book, was selected as one of the best children's books of 2012 by Kirkus Reviews.
Now, Roman has published a second Captain No Beard book in the series that features Pepper Parrot who is learning about patience.
Win these two books, plus a bonus new book by Roman entitled "I Want To Do Yoga Too" by entering your information below.
Five winners will be selected Monday, Feb. 11.
All books are available for purchase on Amazon!
*By entering this giveaway, you agree to receive newsletters from NYMetroParents. No purchase necessary. Must be 18 or older to participate.
Congratulations to the winners!
• Danielle M.
• Milagros G.
• Shirley H.
• Paula I.
• Sara M.