Eleven-year-old Elli Choi from New York City will be on an episode of NPR's "From the Top," the hit radio program featuring America's best young classical musicians.
During the week of March 25, "From The Top," hosted by acclaimed pianist Christopher O'Riley on NPR, will feature 11-year-old Elli Choi from New York City. Featuring America's best young classical musicians, this hit NPR program is broadcast from Tucson, Arizona, and this episode, which was taped before a live audience at Centennial Hall, will air nationally and online at: fromthetop.org.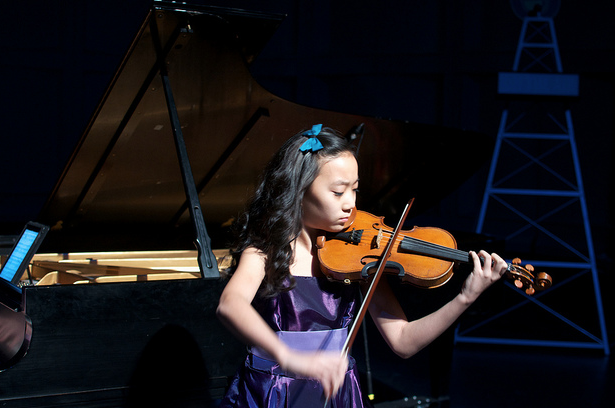 Courtesy From The Top, Inc.
Originially from San Diego, California, Elli Choi now resides in New York City where she is a student of Hyo Kang at the Julliard Pre-College Division. In addition to playing in a string ensemble at her school, she sings in the choir and also plays piano and recorder. She has attended the Mozarteum International Summer Academy in Austria.
Outside of music, Elli fills her time with gymnastics, running, and dancing. She really enjoys riding roller coasters and going on waterslides. On the show, Elli performs the first movement, Allegro vivo, from the Sonata in G minor for Violin and Piano by Claude Debussy,
Also on the broadcast: 15-year-old cellist Daniel Kaler from Wilmette, Illinois performs "Chant du Ménestrel" (Minstrel's Song), Op. 71 by Alexander Glazunov; 13-year-old pianist Cameron Williams from Tucson, Arizona performs the fourth movement, Suggestion Diabolique, from Four Pieces for Piano, Op. 4 by Sergei Prokofiev; 16-year-old trumpet player Elmer Churampi from Lima, Peru, and currently studying at Interlochen Arts Academy in Michigan performs Rhapsody in Blue by George Gershwin, arr. Timofei Dokschizer; and 17-year-old guitarist Augustus Woodrow-Tomizuka from Tucson, Arizona, performs Grande Overture, Op. 61 by Mauro Giuliani.
For the past decade, "From the Top" has been the preeminent showcase for America's best young musicians. Through award-winning NPR and PBS programs, online media, a national tour of live events, and education programs, From the Top shares the stories and performances of pre-collegiate musicians with millions each week.
"From the Top" is made possible by support from U.S. Trust and grants from the National Endowment for the Arts and the Jack Kent Cooke Foundation. It is also supported through the generous contributions of individuals and institutions as well as public radio stations.
"From the Top" on NPR is produced in association with WGBH Radio Boston and New England Conservatory of Music, its home and education partner.