A new sunless tanning option is available in Fairfield County. Zen Bronze, an organic spray tan studio whose water-based tanning solutions are made with olive oil and coffee beans, recently began offering an express airbrush tanning option.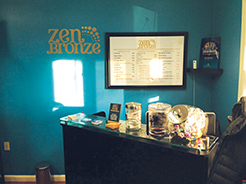 Riverside's Zen Bronze provides patrons with a
healthy and organic airbrush tan and a comfortable
and friendly atmosphere.
At the forefront of the airbrush tanning trend is Zen Bronze, an organic, sunless solution manned by a certified tanning staff that uses state-of-the-art airbrush guns to hand-spray custom colors to guests' bodies.
Zen Bronze now offers express airbrush tanning. Rather than waiting the recommended 8-12 hours for the tan to develop before showering, clients can shower after an hour for a light glow, between 60-90 minutes for a medium tan, and after two hours for a dark tan.
Showcasing only spray tan formulas that are water-based solutions made with olive oil and coffee beans, the salon presents itself as a healthy-conscious tanning option. "More and more people are caring not only about the beauty part, but the health aspect as well," says Donna Buscemi, owner of the tanning business. "At Zen Bronze, I like to provide something that is healthy and that I can back up."
Zen Bronze, a year-round business, allows patrons ages 16 and older, both men and women, and promotes a comfortable environment, with disposable tops and bottoms, optional nose plugs, and a mobile tanning service that will make house calls if need be. Buscemi, who likes to constantly update the tanning options offered, is currently working on an SPF solution.
The tanning salon offers student discount when students show their student ID. Appointments can be booked on Zen Bronze's website.