Did you know that eating seafood twice a week can help prevent heart disease? Add these healthy and easy fish recipes to your family's dinner menu and enjoy fresh dishes featuring cod, halibut, pollock, salmon, and sole.
Eating seafood at least twice a week can help protect against heart disease, according to the USDA 2010 Dietary Guidelines for Americans. To keep hearts healthy, the USDA recommends eating 8 ounces of seafood per week, which is equivalent to two 4-ounce servings.
Here are 4 ways you can add delicious, heart-healthy seafood to your family's diet:
—Choose seafood such as pollock, cod, halibut, sole, king and snow crab, black cod, and salmon, which offer nutritional benefits such as heart-healthy omega-3s.
—Prepare seafood so it's lean and flavorful by using healthy cooking methods such as grilling, roasting, or baking, and skip calorie- and fat-laden methods such as frying, breading, or adding rich sauces.
—Add flavor using spices and fresh or dried herbs as seasonings.
—Serve seafood with healthful sides, such as whole grains, roasted vegetables, and crisp greens.
Here are 5 easy and healthy fish recipes to try on your family: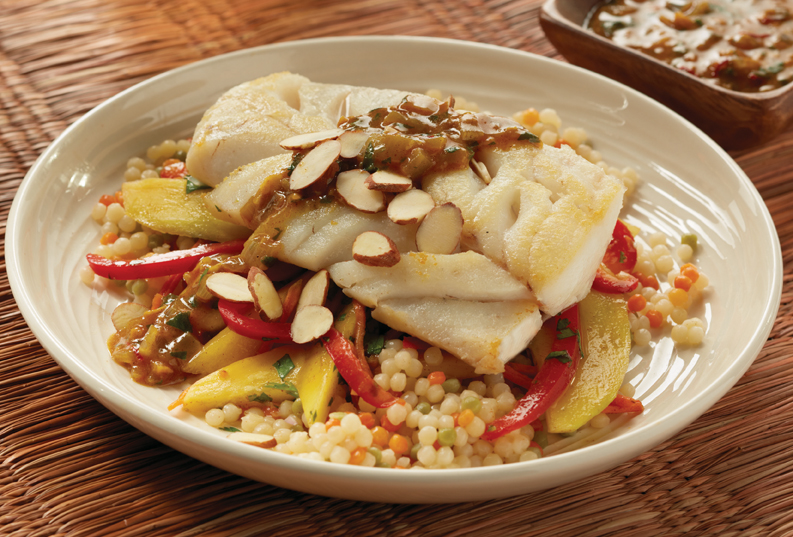 Moroccan-Style Cod with Mango-Carrot Slaw
This cod recipe features Moroccan spices like saffron, cinnamon, and allspice, which pairs nicely with a refreshing mango-carrot slaw featuring flavors such as cilantro, lime, and honey. It's a healthy family dinner that's ready in about 35 minutes.
Warm Halibut Potato Salad with Green Onion Dijon Dressing
This quick and healthy salad recipe stars halibut, potatoes, red bell peppers, and mandarin oranges atop a bed of arugula with a warm dressing made of green onions, orange juice, and Dijon mustard. It's ready in 30 minutes and serves up to 6 people.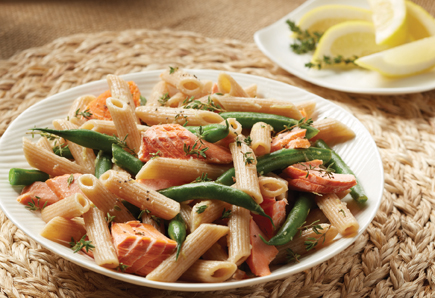 Salmon Penne with Green Beans Vinaigrette
This recipe for salmon with green beans and whole-wheat pasta serves five people and is ready in less than 30 minutes. Add some fresh thyme and lemon zest and you have a healthy, quick, and easy seafood dish for your family's next weeknight meal.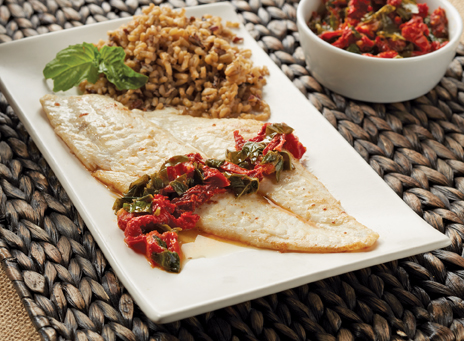 Sole Capri
In this classic Italian fish dish, sole fillets are paired with fresh basil and sun-dried tomatoes and topped with an easy white wine sauce. Best of all: It's ready in 15 minutes!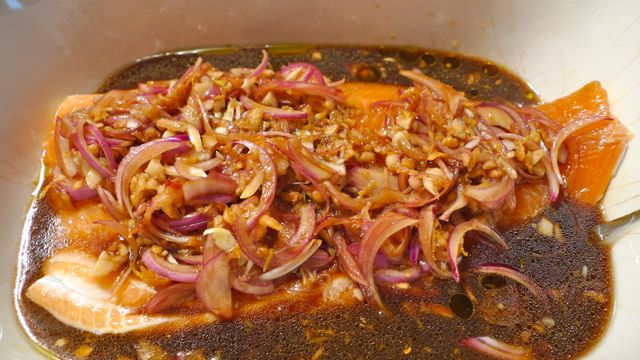 Easy Baked Thai Salmon
This easy-to-make Thai salmon dish, which features soy, sesame, and ginger flavors, is recommended by a certified nutrition coach who specializes in autoimmune disorders and thyroid conditions.
Also See: The Many Benefits of Meatless Meals, featuring 4 more recipes for healthy vegetarian dinners