Unspoiled pink sand beaches. A wide variety of activities. Near perfect weather. Now celebrating its 400th anniversary, Bermuda — just a short flight from the east coast — makes for an ideal family getaway, perfect for a long weekend or week of relaxation by the ocean.

And there are charming idiosyncrasies. Men wear shorts and knee socks; vacationers can't rent cars; and you can get both a proper English tea and a refreshing tropical drink on an island that is neither in the British Isles nor the tropics.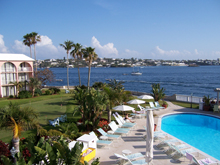 If you go, consider the historic Hamilton Fairmont Princess and its sister property, the Southampton. The Hamilton is walking distance from many restaurants, and is near a public ferry. It doesn't have a beach, but guests can take a free ferry to the Southampton, where there are more family amenities.

The hotel's private beach, down a steep hill (there is a free hotel shuttle every 15 minutes) is next to the tennis courts, so you can play a game, then cool off in the ocean. The beach, with a restaurant and shop with kayaks and snorkel equipment for rent, is next to a larger public beach, so you can explore further.

Families with older kids should check out the water sports at Waterlot Inn, the Southampton's private dock. Here, you can rent a Jet Ski, or go waterskiing or wakeboarding. Waterlot is also home to the hotel's several restaurants, including its steak and seafood house.

If your kids are ages 5-12, they can attend the Explorers Camp. The program includes pool and beach time, arts and crafts, movies and games, all for $30 a day. There are special Envirokids activities, like bird watching and tree planting, to promote environmental awareness, and there are off-property excursions for an additional fee.

The hotel also has free activities, including water aerobics and hikes with a naturalist. Tim Rogers, a Railway Trail Guide, leads hotel guests and private clients on hikes through the Bermuda Railway Trail, a car-free trail that runs the 26-mile length of the island and offers a peak into the farms and backyards of Bermuda. You can rent bicycles and cycle the trail, which is mostly flat, but some areas with steep hills and steps require that you walk your bike.

If you're interested in other island activities, don't miss the hotel's daily newsletter, which alerts you to such offerings as guided tours of the Royal Naval Dockyard. The Dockyard, at the tip of Bermuda, has a Maritime Museum where you can learn about the history of Bermuda, including its slave trade. Make sure to look for the dollhouses. The Dockyard is also home to Dolphin Quest, where dolphin encounters, for kids 3 and up, start at $155. (If you have dolphin-obsessed kids and don't want to spend the money, you will have to creatively divert your children past the signs.)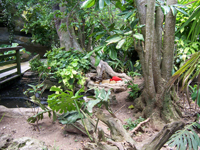 You can see marine animals on the cheap at the Bermuda Aquarium, Museum & Zoo. The small aquarium, with a live coral reef exhibit, has daily seal feedings and a free daily animal tour (weekends only October-March). At the Discovery Cove within the aquarium, for kids under 10, there are slides, a fossil dig, and a mini waterfall. Peacocks roam the outdoor exhibits, and an aviary features South American birds.
Learn more about the ocean at the Bermuda Underwater Exploration Institute. This interactive museum has a large shell collection and a simulated dive experience, really a very slow elevator that "transports" you underwater. Kids can dress up in scuba gear and explore a shipwreck gallery.

If you like going underground, visit Crystal Caves, where you can see two caves on a guided tour. Fantasy Cave has fabulous crystal formations. Crystal Cave has floating bridges over an underground lake; when you walk deep into the cave, the guide turns out the light and you experience true darkness (and fear – don't do this with a child who is afraid of the dark!).


If You Go...

• Hamilton Fairmont Princess and Fairmont Southampton: www.fairmont.com

• Smatt's Cycle: one-day bike rental, $35. www.smattscyclelivery.com

• Bermuda Maritime Museum: open daily 9:30am-5pm; $10, $5 children, FREE under age 5. www.bmm.bm

• Bermuda Aquarium, Museum & Zoo: open daily 9am-5pm; $10, $5 children, FREE under age 5. www.bamz.org

• Bermuda Underwater Exploration Institute: open Monday-Friday 9am-5pm, Saturday-Sunday 10am-5pm; $12, $5 children, FREE under age 5. www.buei.org

• Crystal Caves: open daily 9:30am-4:30pm; $12, $7 children. www.caves.bm

For more info: www.bermudatourism.com