Related: orlando, disney, seaworld, vacation, rides, rollercoasters, waterpark,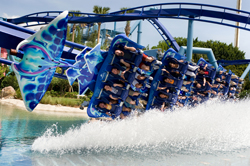 Orlando, FL, the holy grail of U.S. family vacation destinations, maintains its preeminent reputation by continually upping the ante on its already gonzo collection of places to go and things to do. Thanks to theme parks, water parks, animal adventures, and pop culture emporiums, fun abounds with giggles and character photo ops on a continuous loop. And just when you think you've done it all, Orlando adds new stuff — amazing stuff — stuff that begs repeat visits to indulge in the latest in killer coasters, theme restaurants, and jaw-dropping concept rides.

Nowhere is this more evident than with SeaWorld's ever-expanding Orlando profile, currently represented in three distinct family-friendly experiences: Aquatica, SeaWorld Orlando, and Discovery Cove. And the best part is, you can visit all three even if your playtime is limited to a long weekend.

Aquatica, SeaWorld's Waterpark
Dress code: swimwear. Attitude: laid-back to crazed (this is the home of Dolphin Plunge, after all, with its 300-foot-long tubes that shoot you into a lagoon filled with black and white dolphins!).

Three dozen water slides, six rivers, wave pools, beach areas for sunning, two animal habitats, and water rides/attractions with whimsical, quasi-South Seas names like Roa's Rapids, Wahalla Wave, HooRoo Run, and Tassie Twisters. And while many of the of the rides are big kid/adult-oriented, like the multi-lane racing slide (Whanau Way), mini versions have been created at Kata's Kookaburra Cove to ensure the little ones get to share in the excitement (and do they ever!).

SeaWorld Orlando
Shamu's personal stamping ground, this marine life adventure added (as of May 22) a mind-blowing flying coaster called Manta (because "it's like riding on the belly of a massive 12-foot wide manta ray as it glides and twists and soars above the ocean").

Yikes factor: Manta's seats rotate forward, putting riders in a face-down position just before launching them into a 56-mph trip that includes a pretzel-loop twist and in-line spins. Like others, I rode barefoot because flip-flops don't stand a chance. General consensus: "thrill ride" is not hyperbole. For individuals over 54 inches tall only. (For a preview, visit Manta's website: divedeepflyhigh.com.)

In addition to the coaster, the Manta experience also includes 10 new aquarium habitats housing over 3,000 different sea creatures and fish, allowing the entire family — regardless of height — to get a taste of Manta world.

As for Believe, Shamu and company's current show of shows, be sure to pick up a schedule of shows at the entrance to the park, and try to get there at least 20 minutes early for primo seats. Also recommended: Key West at SeaWorld (dolphins, stingrays and sea turtles), Manatee Rescue, Pacific Point Preserve (sea lions and harbor seals), and, of course, the irresistible Penguin Encounter.

Restaurant recommendation: Sharks Underwater Grill featuring "Floribbean" cuisine and a floor-to-ceiling glass wall separating diners from 50+ sharks. Think what the folks back home will say when they download your smiling 6-year-old with Jaws, Jr., peering over his shoulder.

Discovery Cove
Two key words to know when it comes to this reservations-only retreat: Dolphin Lagoon, where you and your kids can spend half an hour interacting with bottlenose dolphins. Educational? Sure, but these amazing encounters, each led by an experienced trainer, is structured to give participants a chance to feed, nuzzle, pet, and ride the gentle mammals. At one point, Jenny, the most excellent dolphin assigned to my group (you're divided into groups of six to eight), jettisoned herself out of the water and into the air.

Even if you don't schedule a dolphin encounter (dolphin swims are extra when booking an all-inclusive Discovery Cove adventure), there are plenty of other interactive activities to be shared, such as snorkeling, swimming alongside rays, and hand-feeding more than 250 exotic birds at the Explorer's Aviary. And you can always stretch out on the Cove's beautiful white sand beaches.

When You Go
For up-to-the-minute info on packages, pricing, special benefits (like the very useful Quick Queue that gets you express access to rides and attractions), contests, and seasonal park events and exhibits, visit www.SeaWorldOrlando.com, www.aquaticabyseaworld.com, and/or www.discoverycove.com.

In The Vicinity….
Pirates Dinner Adventure: An interactive, truly fun, swashbuckling musical with dinner and post-show dance party. www.piratesdinneradventure.com. Hint: splurge on the upgrade if your kids love the spotlight.

WonderWorks: A state-of-the-art-multimedia playground for all ages housed in an upside-down building. Also at WonderWorks: The Outta Control Magic Comedy Dinner Show. www.wonderworksonline.com. Hint: Don't skimp on time; the number of interactive exhibits is staggering.

International Plaza Resort & Spa: Directly across the street from the Aquatica, this newly renovated Balinese-inspired resort with its friendly staff, adult and kiddy pools, mini-golf, various dining options, and pampering L'Esprit Day Spa, is a charming, affordable, and extremely convenient home away from home for SeaWorld visitors. www.intlplazaresort.com.
---
Get Your FREE Indoor Activity eGuide!
---
More Recreation/Outings Articles
2010 Nassau Coliseum Fair in Uniondale, NY
DanceAfrica 2011 at BAM: Viva Cuba!
Brooklyn May Calendar Highlights: Family Activities
Spring 2011 Bird Watching Events in Westchester County, NY
Westchester County, NY, May Calendar Highlights: Activities for Families

Be a good fellow parent and share this with a friend who would be interested
Local Recreation/Outings Sponsors
See Our Recreation/Outings Directory