Long Island moms and sisters Karen Falco-Pedra and Lisa Falco-Gadzinski opened A Girl's Gotta Spa in 2008, which offers spa services and birthday party packages exclusively to girls 18 and under. We caught up with the pair to discuss who inspires them, how they balance work and family life, and what's next for their business.
Quick Facts:
Karen Falco-Pedra lives in Medford with her husband Mario, and daughters Kayla, 9, and Alayna, 6.
Lisa Falco-Gadzinski lives in Manorville with her husband Tony, daughter Alexis, 12, and son Gavin, 10.
The sisters opened A Girl's Gotta Spa in Patchogue in 2008.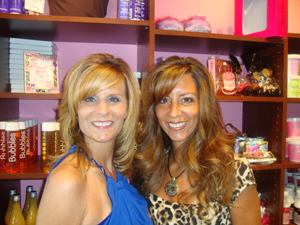 Inspired by their own daughters, sisters Karen Falco-Pedra and Lisa Falco-Gadzinski realized that they wanted to open a spa especially for teens and young girls. The idea, they say, was brewing for years, through one disappointing spa birthday party after another.
For her 4th birthday, Karen took her daughter to a salon for a mani, pedi, and pigtails-style updo, but was surprised at the way the stylists reacted to a child. "They were annoyed," Karen recalls. "They slapped some nail polish on her nails and they didn't know what to charge for pigtails." She left feeling upset, and thought, "That was not a celebration. What was so special about that?" Her sister Lisa also tried to create a spa party for her daughter at home, but found the set-up to be time-consuming and expensive.
The sisters felt that there should be a welcoming place where moms could bring their daughters for a fun salon experience with their friends. They envisioned little girls dressed in pink robes, sipping pink lemonade from champagne glasses - and no setup or cleanup duties for the parents!
With Karen's background as a cosmetologist and Lisa's selling Mary Kay cosmetics, the two teamed up, scouted out a location not too far from either of their homes, and looked to hire staff members who love children. And while neither of them knew anything about running a spa in particular, as sisters, they frequently fed off each other's ideas. "Lisa is a great sales person," Karen points out. "I'm more on the creative end of things. We both have our place and bring something to the table."
A Girl's Gotta Spa opened its doors in Patchogue in April 2008. We talked to the sisters about how they built the business and what makes the spa such a special place for girls 18 and younger.
Why did you think the time was finally right to open a spa for young girls?
KP: I think in the last 10 years the spa industry has changed. Years ago, you didn't hear about kids getting services. No one wanted kids there. Now kids want to get these services. I don't think you can have adults and kids in the same place. There were a lot of places that offered a spa birthday party, but it wasn't an authentic spa experience.
LG: We noticed that the moms who were going to get manicures and pedicures would bring their girls along. Half of the salon was filled with girls, and half with their mothers. We were so on to something! We are the only spa on Long Island that caters just to those 18 and under.
What are some of the biggest challenges you faced?
LG: You have to have a lot of support from family. We took time away from our families. Our parents watched our kids so we could work. Those are the tough things. You have to sacrifice. If you're passionate and believe in what you do, it's so worth it. Now we have a manager, so we don't have to work every single weekend.
How did you decide on the products and services you were going to offer?
KP: Anything that we sample is tested on our children. My little one is allergic to tree nuts and has asthma. If it's not safe for Alayna, it's not going in the spa. We are very careful with what we use. We searched online, traveled to different places. We went to spas. Our girls are such an inspiration. My 9-year-old came up with a hairstyle - she calls it 'the wave.' We go to hair shows; we try to keep current. We see what's going on in the schools and feed off that.
LG: I was in Pennsylvania and saw ice cream manicures and pedicures. I thought, this would be perfect! And ice cream goes well with chocolate - let's do chocolate facials! You feed off each other. We're both creative. It's also focusing and spending the time to develop an idea. Karen had the idea of rolling towels like little pieces of cake to serve, and I'll come up with a new package to market it.
Tell us about the Bath Bakery Sweet Shoppe.
LG: It's fabulous! We have create-your-own sugar scrubs, lotions, lip scrubs. There are accessories, a section of handmade soaps and ice cream baths - anything for the young lady to continue the spa experience at home. They're all bath and body treats that are "delicious," but they're not edible! The spa is set up like a candy store. Everything looks like food and dessert. That's how it developed over the years after we started getting a few soap products that looked like food.
KP: We also create new recipes for the manicures and pedicures, from candy apples to cupcakes, chocolate bars to cinnamon buns. For the seasons, we offer gingerbread and candy cane. We have different vendors that we work with.
Any advice to other moms who want to start their own business?
LG: Don't give up when someone tells you that it's not going to work. If you believe in what you're doing, you have to go for it. At some point, things turn around. There are things you have to put on the back burner to get your business off the ground. It's tough to run a business on your own. If you have a partner, it makes owning a business that much easier.
What has been the key to your success?
KP: We're particular about every aspect of the salon, and that sets us apart from other birthday places where no one is licensed. We have very high standards. People leave our salons with full-blown updos. They look like they're going to a wedding.
LG: When a mom comes up to us and says, 'It was the best party my daughter ever went to!' I think that's a huge reward. It's also word-of-mouth. Those kids then want to have their birthdays here.
What's next for the company?
KP: All of our products will be available online, and you can purchase a gift card online. There are always new products to look forward to. We sat down with a cosmetics company to make our own line. We are franchising the business. It would be great for other moms to get involved!
A Girl's Gotta Spa is located on East Main Street in Patchogue and will be opening up a new location in Dix Hills this fall. For more information, visit www.girlsgottaspa.com.