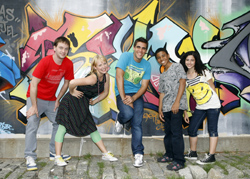 Sesame Workshop's beloved children's series, The Electric Company, sparked a current in the 1970s. The next generation can now share the energy. The show re-launched in January on PBS KIDS GO! with a fresh-faced cast. The new series is designed to combat the literacy gap between low and middle income families, and promote the idea that "reading is cool" by using popular music, animation, technology, humor, and graphics.
   The characters on The Electric Company are a group of do-gooders who keep the neighborhood safe with their literacy superpowers and solve problems usually caused by "The Pranksters."Season One will also feature comedy segments and music videos with celebrities like Whoopi Goldberg, Tiki Barber, rapper Common, 30 Rock's Jack McBrayer, Wyclef Jean, singer/songwriter Ne-Yo, and Saturday Night Live's Jimmy Fallon.
After shooting his music video to the original song, "Pocket Full of Hs," on the Sesame Workshop's green screen, Fallon seemed excited just chatting about his involvement in the new series. "This is just so cool!" he spouted. "I'm very honored to be part of a show that I loved as a kid. And what's great is that kids now are so responsive to TV and media, the show can be such a powerful learning tool."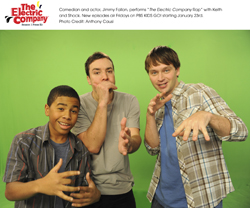 The Electric Company's educational objectives include decoding, comprehension of connected text, vocabulary, and motivation. These are incorporated into the show through kid-friendly themes such as the body, animals, games, and space. Community-based outreach activities will also take place in cities across the country with at-risk populations. According to Scott Cameron, director of education and research for Sesame Workshop, literacy experts from around the world helped develop this multimedia project in order to reach and affect struggling readers on multiple levels. It's an updated, more danceable version of its iconic former self.
   And speaking of the classic, Mr. Fallon didn't have to think too hard to recall some of his favorite skits as a child. "The Spider-man skits were some of my favorites," he said, "and so were the segments when we had to count to 12. And of course, there's the famous 'Hey, you guuuuuuuys!'"
The Electric Company
debuted in its regular weekly timeslot on Friday, January 23rd (check
your local listings). Go to their interactive site at
www.pbskids.go/org/electriccompany.