Hearts and Crafts Grief Counseling hosted its 15th annual Camp Grief Busters in June where bereaved kids and parents spent the weekend participating in fun games, relaxing, and being reminded of the importance of enjoying life amid tragedy.
Forty-two kids and teens wore nametags stating, "I came to Camp Grief Busters to remember my ______," and each blank was filled in with the name of a loved one. They were all attendees at a special weekend-long summer camp hosted June 2-3 by the nonprofit Hearts & Crafts Grief Counseling at Stony Point Retreat Center, which encouraged bereaved children and parents to remember that, "It is important to enjoy life, even in the wake of tragedy," says Lisa Fairman, the organization's director of community outreach.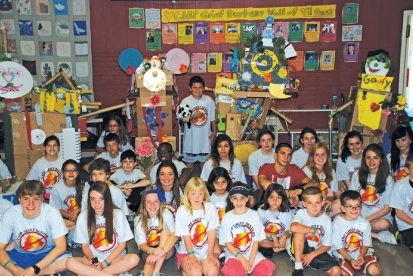 Campers gather around the four "grief monsters" they
made to demonstrate Camp Grief Busters' motto:
"Grief is not a monster to hide from."
Courtesy Hearts & Craft Grief Counseling

As part of the summer camp's activities, kids were taught the motto "Grief is not a monster to hide from." Campers also participated in silly relay races, played games at an 18-booth carnival, and made special art projects, including decorating special rocks to place around the memory tree that was planted several years ago by former campers. While the kids simply enjoyed being kids, the 23 parents who attended the camp were treated to massages and a wine and cheese party.
All child and parent campers were able to attend Camp Grief Busters free of charge thanks to the nonprofit's donations from various sponsors, including Macy's, Markit, and The Erin Ryan O'Grady Fund, which has been sponsoring the event since its inception 15 years ago.
Based in Ramsey, NJ, Hearts & Crafts Grief Counseling, which was founded in 1994 by board-certified art therapist Laura Hudson, provides its services to those living in Rockland and Orange counties in NY and Bergen County in NJ. The center has grown from serving 20 families to about 250 children and adults a year. Hudson and co-director Terry DeBrule, LCSW, aim to provide a safe, caring environment for bereaved families while they work though their healing process.
Each year, along with hosting Camp Grief Busters, Hearts & Crafts Grief Counseling throws an annual holiday gathering to help families and children connect with others who may also be coping with the loss of a loved one.
To learn more about Hearts & Crafts Grief Counseling or to speak directly to a counselor, call 201-818-9399. For more information, visit heartsandcraftscounseling.org.