Four-year-old Jillian Cordi of South Farmingdale, NY, got her very own playground courtesy of the Make-A-Wish Foundation of Metro New York and a little help from her community.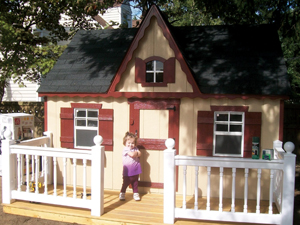 Diagnosed with the rare PHACE syndrome, which can cause a combination of hemangiomas, brain malformations, arterial anomalies, cardiac defects, and eye abnormalities, 4-year-old Jillian Cordi of South Farmingdale is the size of a 16-month-old. Because of her small size, Jillian was frequently pushed and tripped over by other children at her local playground, and her only wish was to have a playground of her very own. Thanks to the Make-A-Wish Foundation of Metro New York and a "little" help from Jillian's community, her wish recently came true.
The only obstacle to Jillian's wish was that her family's house lacked a backyard, so a side-yard area would have to be turned over, leveled, and screened off to make it a safe place to play. But her family and the community members and businesses of South Farmingdale rose to the challenge: Together they raised the necessary funds and completed all of the required landscaping, while Make-A-Wish provided a swing bar, playhouse, and fence.
"The works of the Make-A-Wish Foundation inspired our community to come together and to be part of the enriching experience that wish-granting holds," says Victoria Cordi, Jillian's mother. "Jillian literally fought for her life, and even on her worst days she would ask, 'Is my playground coming?' In many ways, the updates from the Make-A-Wish staff and from the community members who were supporting the wish became a lifeline." On December 18, Jillian and her family celebrated at VFW Hall with all who helped make Jillian's wish come true.
Make-A-Wish Foundation grants the wishes of children with life-threatening medical conditions. In 2010, the Metro New York chapter granted a record number of 531 wishes. For more information, contact the foundation at 516-944 6212 or visit www.metrony.wish.org.