A Rockland County mom of two reflects on her childhood memories of Hanukkah and how she plans to keep them alive for her daughters as they grow up.
When I was really young, my dad worked in retail. It seemed like my mom and I hardly saw him from Thanksgiving through New Years. This was long before cell phones, email, and other ways modern parents can keep in touch with their kids throughout the day. To cheer things up a bit during the eight nights of Hanukkah, my mom would hide my presents somewhere in our apartment. She would respond with "cold" if I was headed in the wrong direction, "warm" if I was headed in the right direction, and "hot" if I was close to the gift.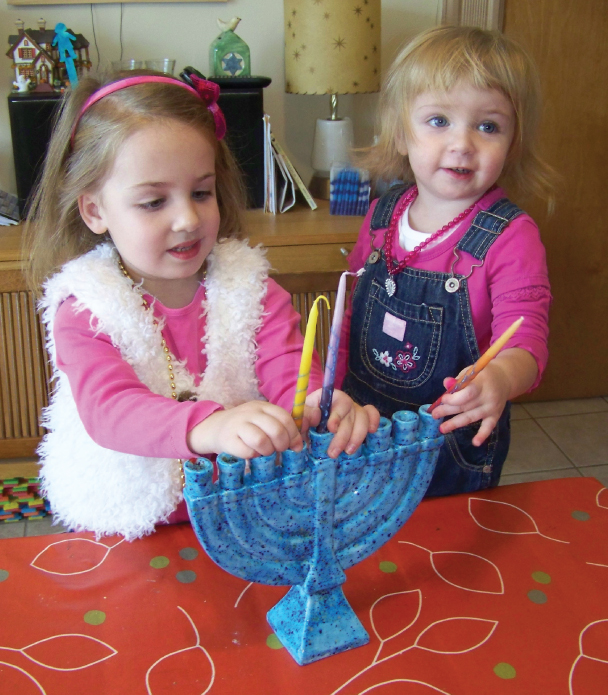 Somewhere along the line, I got older and my parents stopped observing the holiday, although I continued to light candles each night and make latkes for myself during this spirit-lifting winter holiday.
Now I have kids of my own. I don't have any big traditions to pass on, but last year I encouraged my older daughter to paint a menorah for her father. This handmade gift was probably the most meaningful present he could have received. I'm sure we'll come up with another craft idea for this year, perhaps turning her creativity into a holiday tradition. This year I might also revive the "hot" and "cold" game with my girls. The older one will enjoy the enticement, and her younger sister will enjoy following Big Sis around the apartment. And all three of us will surely find a night to make latkes together.
Alison Reiser is the NYMetroParents calendar editor for Rockland County, where she lives and celebrates with her family
Also see: NYMetroParents' Holiday Bazaar of Traditions, Memories, Insights, and Gifts