Watching the Olympics can be thrilling for a young athlete; using and exploring the facilities from the actual Olympics is a greater thrill.  In
Lake Placid
, home of the 1932 and 1980 Olympic Games, families can participate in winter events year-round, and in summer enjoy even more outdoor athletic pursuits.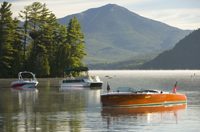 Any time of year, you can ice skate on one of the four Olympic rinks. These are also used by hockey and figure skating aspirants, so you may get to watch serious athletes practicing as well.  In winter, you can even rent speed skates and have some fun on the speed skating oval.
   Year round, there are bobsled rides: in summer they are on wheels, in winter they are on ice.  Rides, for any brave soul four feet and up, are fast, expensive and safe; a driver and brakeman take care of the mechanics.  You can also watch future Olympians-in- training going even faster on their bobsled runs.  In Main Street in town  you can sit in an actual bobsled, free, in front of the Zig Zag Bar, named for one of the bobsled course turns.  And at the Winter Olympic Museum, you can sit in a bobsled and see, but not touch, the evolution of bobsleds, from quaint wooden models to the fiberglass sleds used today. 
   Skiing at Whiteface Mountain morphs to mountain biking in summer; bikes, helmets and pads can be rented, and you bring your bike up on the gondola.  For non-riders, you can take the scenic gondola ride up the mountain and enjoy a picnic.  And at The Olympic Sports Complex, the Olympic cross-country trails are also  used in summer for mountain biking.
   You can't try ski jumping, but you can ride an elevator to the top of the 120-meter tower to get some perspective on what it feels like to do this challenging sport.
   Get wild a different way at The Wild Center, about 30 minutes away in Tupper Lake. This new natural history museum has live animals, like birds, fish and frogs, an indoor river and forest and outdoor hiking trails and pond.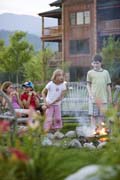 If you stay at The Whiteface Lodge, you might never want to leave to explore the rest of Lake Placid.  The 4-year-old hotel, modeled on the Adirondack Great Camps, has wonderful activities for the whole family.  In summer, a free Explorer's Club offers supervised activities for kids ages 3-6 every morning, and ages 7-12 all day.  The hotel has its own ice skating rink, which in summer becomes a canvas for sidewalk chalk.  The indoor/outdoor pool is open year round, and the snowshoe trails (there are complimentary ice skates and snowshoes) become easy hiking trails in warm weather.  There is tennis and platform tennis, and in season, the private Canoe Club, a short ride or walk on Lake Placid offers canoes, kayaks and pontoon boat rides.
   The stocked fishing pond virtually guarantees young anglers a bite; frogs offer city kids another look at nature.  The resort has a world class spa with special services for teens and men.  The signature maple butter massage moisturizes as it relieves body aches (maybe from clenching your teeth on the bobsled?)
   The lodge has a game room with Foosball, pool, board games and 2 bowling lanes.  This is real bowling, with wooden pins and hand scoring; there are even bowling shoes. The movie theater shows three films daily, starting with a 'G' movie, then moving to 'PG' and 'PG-13.' There are also DVDs that you can watch in your room, and a lending library with children's and adult books.
   The rooms are perfect for families, with kitchens, at least one and a half baths, and homemade cookies at turndown.  Every afternoon, free hot drinks and cookies are served, and in the evenings, there are s'mores at an outdoor fire pit.  And the decor, with its vintage skis and snowshoes, will encourage you to go out and explore Lake Placid.
Information:
For bobsleds, skating and other Olympic activities go to
www.orda.org
.
Skiing and mountain biking: Whiteface Mountain:
www.whiteface.com
.
The Wild Center:
www.wildcenter.org
.
The Whiteface Lodge:
www.thewhitefacelodge.com
.
For more info:
www.lakeplacid.com
.