It started with a desire by Louise Kerz Hirschfeld, the widow of famed American visual artist, Al Hirschfeld, to find a way to introduce children to her late husband's work. She considered putting up his artwork in school libraries, and over the years, the project expanded. Now, the New York City Department of Education and the Al Hirschfeld Foundation have teamed up to present a curriculum for grades 2-12 based on the artist's life and work.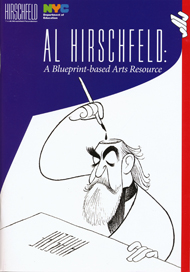 Louise Hirschfeld says the program represents "a great push in public schools to bring back the creative process. School doesn't have to be centered on just sports or math. It can be about opera, ballet and theater… The curriculum is like a botanical garden where the arts will grow and nourish the children of New York City."

Al Hirschfeld, also called the Line King, had an uncanny ability to capture the personality of his subjects with a simple, elegant way of drawing. His career spanned nearly a century, and produced a rich body of work reflective of dancers, musicians, actors, visual artists, and other legends.

One of his subjects, the actress Chita Rivera, wrote: "He was such a genius, one who had the ability to capture the essence and spirit of a subject by using a minimum amount of lines and leaving no doubt as to the identity of who was being portrayed… Possibly the only tribute more important that having your own caricature done by the Line King … would be to be commemorated with your image on a U.S. postage stamp."

Many people consider Hirschfeld a caricaturist, but he did not agree with that label. He preferred to think of his work as "character drawings," capturing the inner life and abilities of his subjects. Said actor Mandy Patinkin, "Al Hirschfeld told me once that his goal in his work was to make the drawings in a single line. On many occasions we can see how well he succeeded, leaving us with not only the gift of his art but the genius of his craft, and a true legacy to us all: simplicity."
The new educational curriculum is not simply about the life and art of Hirschfeld. It uses his creativity as a jumping off point for all kinds of subject matter. "Take the drawing of George Gershwin," says Louise Hirschfeld. "A theater lesson becomes a geography lesson, which blossoms into the history of immigration. The same with Arthur Miller and the literature of the theater."
Many New York City teachers are already familiar with Hirschfeld's work through his weekly drawings in the New York Times, but this program is designed to introduce a new generation to this national treasure. Through Hirschfeld's drawings, teachers of dance, music, theater and visual arts will educate students about the performing arts of the last 100 years. Students will be exposed to the artists and the artistic productions that inspired Hirschfeld, thereby getting an overview of culture in the 20th century. And they'll have a lot of fun doing it. "His creativity speaks to children on all levels," says Louise Hirschfeld.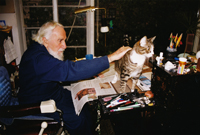 Part of the curriculum for second graders is "Hirschfeld and Visual Arts", in which students are asked to study Hirschfeld's drawing and discuss how he uses line. They are told that Hirschfeld often incorporated his daughter's name, Nina, into his drawings, and they are challenged to find it. They talk about their own theater experiences, i.e., who has seen what plays, what did the actors do, what was the scenery like.

At the 12th grade level, the exercises are more sophisticated. In the section on Hirschfeld and music, seniors are asked to sing "Oh, What a Beautiful Morning" from Oklahoma!, "Tonight" from West Side Story, and "Seasons of Love" from Rent. Then they're asked to discuss the stylistic evolution of these musicals, and to create a soundtrack for a Hirschfeld slide show using contemporary music. The two remaining sections focus on theater and dance. "It's really exciting to have the chance to introduce children to the wonderful dances of Martha Graham and George Balanchine," Louis Hirschfeld says.

In "Be a Caricaturist", students choose a favorite musician and create their own black and white line drawing. They're told to write five words describing the person's outer appearance, five words about how the subject moves, and then a sentence about the subject's personality.

Joel Klein, chancellor of the New York City Department of Education, says, "I look forward to seeing the many creative ways that our teachers use this new resource as a tool to engage students and enrich their understanding of the history of the performing arts in New York City."

When asked about how Al Hirschfeld might feel about the use of his work to spark creativity in thousands of schoolchildren, his widow replied that her late husband would be extremely pleased to be able to give back.