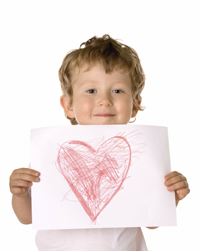 Now more than ever, the message behind the holidays provides a wonderful learning opportunity for children. With the economy in turmoil this season, families may be forced to cut their holiday spending. Rather than focusing on what you cannot afford, make a lesson out of what you already have and what the holidays are really about.
   Studies have revealed various negative effects that come from too many presents being thrown at children during the holiday season. These include decreased concentration, overstimulation, desensitization to things and people, the loss of any concept of "enough," and causing children to value themselves based on what they receive. 
   Nevertheless, some parents feel obligated to spoil their children. Some believe that gift giving is a display of love. Others feel guilty about working too long or hard outside the home and attempt to compensate by buying gifts. Parents might be trying to "keep up with the Jones'" by purchasing for their children everything they see their friends purchasing for their children.
   There are many alternatives to giving material presents. Studies show that, more than gifts, children love to spend time with their parents. Make coupons for "a day at the park with dad" or a "day at the museum with mom." Homemade presents instill the notion of making something from nothing, and represent not only the item but also the time that mom and dad took to, say, build a picture frame or knit a sweater. Encourage children to pick a charity to support instead of receiving a gift. Sponsoring a needy child, for instance, teaches the joy of giving. You can still give gifts, but giving less makes each present more special.
   Try making the present an educational process. If a child requests a guitar, one gift can be a book about guitars, another can be a research trip to a guitar store, a third can be a movie or play about guitars, a fourth can be a journal where the child can write about learning the instrument — and the final gift is the guitar. By giving one larger gift and other supporting gifts, you are teaching your child while highlighting the special quality of the larger gift.
   Ask your children: "What are some ways we can give to others during this time?" Together, you can bring toys to sick children or donate them to a local shelter. Besides spending time as a family, you are encouraging your children to think about others.
   Explain to your children the difference between "gifts" and "things," and between "needing" and "wanting." Help them understand that going to the park or reading a book together is a kind of gift. Most important, remind your children that the true gifts in life are being with family and friends.
TAMMY GOLD is the founder of Gold Parent Coaching (recently featured in Redbook, Pregnancy and Forbes) and one of the first to pioneer the trend of parent coaching.  Certified in both life and parent coaching, she is also a licensed psychotherapist. Tammy graduated from the University of Pennsylvania and Columbia University.