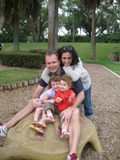 Harald and Lynn Husum met in Guatemala and traveled the world together, but eventually they settled down in a small town called Brooklyn.  Their peripatetic leanings are still evident in the collections they produce for their children's clothing company, Appaman, but the Carroll Gardens parents of two young girls are firmly rooted in their community. 

   Appaman regularly donates to small, local charities, like Friends of Carroll Park, the neighborhood park that serves as a de facto community center for Carroll Gardens, and the public elementary school that their older daughter attends.  They also are contributors to bigger organizations, like NY Cares Coat Drive and Baby Buggy, the NYC group that provides baby clothing and accessories to needy families.  Lynn explains that while many companies donate overstock to charities, she and Harald purposely order extra clothing in their lines, just so they will have more to donate.
   Appaman also supports local artists.  In the fall '09 collection, there is a series of t-shirts designed by Avone, a Brooklyn-born graffiti artist.  The t-shirts evoke Coney Island with a roller coaster and Ferris wheel design, and the city in general with a delivery truck.  The Husums are already on the hunt for another local artist to feature for a new collection.
   The clothes, play-ware with a bit of style, are designed to appeal to both parents' and children's sensibilities.  When the company first started, the Husums had no children, and Harald chose bold graphics for t-shirts that he wanted to wear; luckily, his style had great kid appeal.  And the adult Harald has stayed in touch with his childhood self; the company is named for Harald's childhood stuffed monkey. 
   Appaman started with t-shirts, which are still the core of its line, but pants, jackets and skirts soon followed.  In fact, the company first made t-shirts just for boys, but when the couple had two daughters, they expanded to include clothing that their girls would wear.  Appaman clothes go up to size 8; this season, the line grew smaller, to include layette.  The clothes have managed to develop a large following among celebrity offspring.  A long-sleeve graphic tee is $30, a price that regular folks can also afford.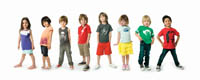 Appaman's commitment to the neighborhood continues with the models used in the 'look books' for the collection.  Rather than use models, the Husums employed a multicultural array of kids they met at the playground.  The only thing the kids shared was a sense of fun. Whether the clothes inspired the fun or the other way around is open to interpretation.
   The Appaman line is available at Half Pint, Area Kids and Hipsqueak. For more info:
www.appaman.com
.