We spoke with John Predaina, director of the John Robert Powers modeling, acting, and etiquette school for kids on Long Island, to get his best advice for parents who want to get their child into acting, modeling, or show business.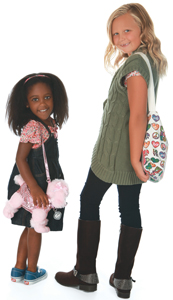 In 1923, John Robert Powers founded his first modeling school with the goal to help people make the most of their personalities and natural talents. More than 80 years later, his school has grown to nationwide notoriety with locations in major cities across the U.S. The John Robert Powers School offers a wide variety of acting and modeling classes to help students break into "the biz." We spoke with John Predaina, director of the school's Long Island location, to get some tips of the trade.
What are the steps involved in getting a child into modeling?
They need to submit photos or put themselves in front of agents or managers for placement. When aspiring to work with our company, each candidate goes through a screening process where they will be evaluated on interviewing skills, camera acting abilities, personality, and overall marketability.
Once a child starts modeling, what are the time demands for that child and his/her family?
It really depends on the overall success of the child. Some of our students are out working/auditioning one to two times per month, while others are doing so one to two times per week. One of the greatest things about this business is that there are always jobs available, and it's really a family decision as to how aggressively they would like to pursue these opportunities.
What kind of time commitment do you ask of your students?
It's not a huge time commitment. Our students attend class once a week for two hours. We offer evenings and weekends to accommodate all family schedules. Our students have an advantage of being able to attend two auditions per month on Sundays with some of the biggest agents, managers, magazine booking editors, and casting directors in the business. We find that combining education with real life auditions is the only clear way to success in this business.
As a child breaks into modeling or acting, how can parents help them handle rejection?
From the beginning, we acknowledge that this is a business where there will be rejection. However, we encourage our families to treat this like any other hobby. This should be treated like soccer or baseball-you're not going to win every game. It's really about having fun and making new friends.
Do you have any advice for parents who are helping their kids get into the business?
Yes! This can be an extremely confusing industry for parents who don't know anything about it. It's important that parents understand that purchasing portfolios, which many companies will lead you to believe are vital, will not create success. This is a craft like anything else that takes a lot of determination, hard work, and continuous education. I like to remind parents that their child is not going to be discovered in a mall or from an online portfolio. It's about education, marketing, and having face-to-face auditions, which is what we pride ourselves in here at JRP Long Island.
JRP Long Island is an acting and modeling academy for kids and teens offering on-camera experience with courses ranging from TV commercials to comedy, film to scene study. Instructors help with fundamentals such as auditioning and interviewing skills, even singing and musical theater. Some JRP success stories include Brenda Song ("The Suite Life On Deck"), Josh Duhamel ("Transformers"), Jake Short ("A.N.T. Farm"), and Yin Chang ("Gossip Girl" and "PROM!").