Spring is the season when boys and girls start getting excited about playing baseball and softball, and for parents, that means getting them ready by buying the right equipment to start their seasons on the right foot.
   You might think all you need to do is go to your local sports store and grab a bat and glove, but there's so much one needs to know when purchasing equipment to make sure your child has the best chance of
having a safe, healthy, and fun youth baseball or softball experience
.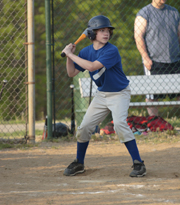 "It's important for parents to understand the amount of equipment that's out there to purchase and not go too crazy buying everything," says Chris Downs, company spokesperson for Little League International, the governing body for the world's largest organized youth sports program. "Having said that, you still need to make educated choices when buying a bat or a fielder's glove, because it's important that you buy the correct equipment for your son or daughter."
BATS


   Whether it's for baseball or softball, choosing a bat for a Little Leaguer is dependent on their age and their ability to hold the bat and understand the dynamics of swinging it. Kids on the Tee Ball level who are just beginning should use a lightweight bat with a small barrel so they will become acclimated to swinging in a natural motion.
   "You don't want too heavy or too long," Downs says. "From the tip of his middle finger to his underarm is the average gauge for the length of a bat you would want to use in that division."
   As your child moves to the next stage (usually called Minors), she will be
developing the coordination necessary to face
live pitching for the first time.
   "The bat should be comfortable in a child's hand where they can balance properly and not feel like dragging the bat in the hitting zone," Downs says. "There's not one bat out there for every player. It's a trial and error process."
   Many parents are concerned with getting a heavier bat thinking that it will help their child hit for more power. "Lighter is often better for younger kids because the quicker bat speed will let you hit the ball harder," says Jeff Starpoi of Active Sports in Larchmont. "If someone is throwing fast and you have a heavy bat, you won't be able to get around on him."
   Active Sports helps determine the correct length by looking at the child's height and seeing what they are comfortable holding.
GLOVES


   You might laugh, but the most important thing for kids just starting out is knowing if they are a righty or lefty. Many coaches have seen a rookie player fielding with the wrong hand because a parent has bought the wrong glove.
   "Find a glove that physically fits a hand as best as possible," Downs says. "The older kids will find something comfortable for them depending on where they play — infield or outfield. Again it's a personal preference most times."
   Tee Ball mitts are all basically the same regardless of position. Most coaches recommend the Easy Catch glove, which has a lip on the top that makes it simpler for kid to learn to hold the ball in the glove.
   "Some kids play catcher or first base, and there are mitts that are special to these positions that are important, especially as they get older," says Starpoi. "Parents should know what position their child is playing. You don't want to buy a first baseman's glove for an outfielder."
AND THE REST


   You might be tempted to buy helmets, catching gear and other things but remember, the League provides most of this and since your children are growing so quickly, they will most likely grow out of anything you buy by season's end. What you should buy are batting gloves, cleats and, for boys, athletic supporters. Another item all Little Leaguers should have is a bat bag, which will hold all the equipment and keep it secure to and from the field.
   "Even at the Tee Ball age, they make rubber cleats in all sizes, so you should service your child for a season or two at an inexpensive price," says Downs. "Choose rubber or plastic spikes through the age of 12. Then they have the option to play in the upper divisions where they can use metal."
KEITH LORIA is a freelance writer who is a commissioner in the Larchmont/Mamaroneck softball league and has coached his daughter Jordan for five years.