Forbes names Brooklyn Children's Museum among the 12 best children's museums in the U.S.
With more than 100,000 square feet and a permanent collection of nearly 30,000 natural-history specimens and cultural objects, Brooklyn Children's Museum—founded in 1899—was the world's first museum for children. Since then, a non-profit Association of Children's Museums has come to include more than 200 such museums throughout the U.S., each specifically designed to foster the education of children.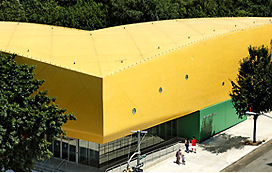 Today, Forbes names Brooklyn Children's Museum among the top 12 of its kind in the U.S., stating that it is one of the "very best." All 12 museums selected feature extensive hands-on interactive exhibits, indoor and outdoor spaces, and inexpensive, healthy food options for kids.
Forbes takes note of Brooklyn Children's Museum's premier exhibit: Neighborhood Nature, which allows kids to explore the natural habitats found in and around New York City, including woodland fields to ocean tide pools.
To learn more about Brooklyn Children's Museum, visit www.brooklynkids.org. View the rest of the best children's museum at Forbes.com.