From twisty slides to pedal-powered carousels, kids love to jump, climb, swing, and slide. Why not venture beyond your family's go-to park for a change of pace? We've zeroed in on some of the best playgrounds for families across Long Island.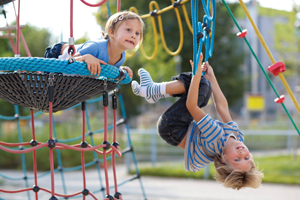 Nassau County
3340 Merrick Road, Hempstead, NY
Voted "Best Playground in Long Island" in 2006 by the Long Island Press, this fenced-in playground has rings, zigzagging monkey bars, hang glider, and seesaw. A smaller play area and swings for tots complement the larger play areas complete with big kid swings. The outside roller rink might inspire kids to bring their rollerblades for some skating fun. A 6-mile path connects Cedar Creek to Jones Beach if you feel like leaving the rink and skating somewhere new.
Tip: Be careful on the sheet metal slides, which heat up in the summer sun and have the potential to burn exposed legs.
1899 Hempstead Turnpike, East Meadow, NY
Referred to as the "Disneyworld of parks," this one has multiple playgrounds, an outdoor theater, a miniature and full-sized golf course and driving range, batting cages, and an Olympic-sized pool. All this exists in addition to the usual fitness paths and picnic areas. As for the playgrounds, the largest near parking field #2 has a sprinkler pool. The main playground (by parking field #4), boasts a rope climbing structure, swings, slides, and fitness equipment.
Tip: Some say there is available Wi-Fi, so if you'd rather catch up on a little work in the sun instead of the office, this is the way to go.
80 Lido Boulevard, Lido Beach, NY
Aside from the obvious benefit of a beachside location, Nickerson Beach Park also sports a "Fun Zone" play area that includes a 7-ramp skate park, basketball courts, and of course, a playground. This play space boasts a climber, spiral slide, and puzzles. There are grills and benches in the picnic area, and nearby, volleyball courts were added in 2008 for individual as well as league play.
Tip: One-day parking costs from Memorial Day through Labor Day range from $8 for Leisure Pass holders to $30 for everyone else.
Suffolk County
Diamond in the Pines
Route 112, Coram, NY
Perfect for kids who love to explore, the playground features a variety of music boards, steeling wheels, and built-in games like tic-tac-toe. The freestanding structures cater to both inexperienced and advanced climbers. A large slide-dominated area is located away from the entrance. Red stepping blocks raised from the blue ground allow imaginative kids to pretend to cross water by jumping from block to block. Parents appreciate an ample number of parking spaces.
Tip: When making a left out of the park seems impossible during the busy summer months, use the shopping center parking lot to the right of the park to turn around.
Main Street, Huntington, NY
One of the biggest draws for this park is the duck pond complete with a fountain. In addition to three playgrounds and two swing sets, the park offers shaded sandboxes, a train, and a carousel. Shaded picnic tables provide relief from the intense summer sun, and be sure to have money for the ice cream truck parked at the entrance. When the kids get tuckered out, there are plenty of trees to plop under for a midday nap.
Tip: Bring an old blanket if you plan on spreading out on the grass where goose droppings can be a problem.
200 New Highway, Commack, NY
At this park/farm/nature preserve, kids have two playgrounds to enjoy. The older sand-based playground has monkey bars, rocking horses, a large climber, and swings. The newer of the two doubles as a water park, with a water tower, a palm tree, and other structures blasting water from every angle. A short walk away, the farm houses pigs, chickens, and goats for the kids to feed.
Tip: Children are allowed to feed the animals veggies from home, but visitors are prohibited from giving the animals bread.
Also see: Our guide to the most family-friendly beaches on Long Island