Broadway's hit musical "The Addams Family" incorporates classic Addams-style humor and quirkiness into a fresh storyline and has hit super-sized success with families.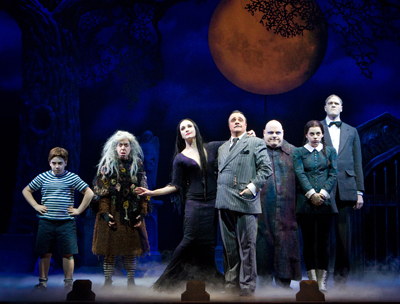 Left to right: Adam Reigler, Jackie Hoffman, Bebe Neuwirth, Nathan Lane, Kevin Chamberlin, Krysta Rodriguez, and Zachary James in The Addams Family.
Oh, those Addamses - brainchildren of cartoonist Charles Addams since The New Yorker started running his twistedly endearing characters in the1930s. And they have endured in semi-sinister bliss well beyond Addams himself, who passed away in 1988, leaving a beloved and macabre legacy that continues to tickle the perverse funny bones of adults and children alike. Indeed, in the 21st century, where video game monsters and vampire flicks flouirsh, the clan comprised of Morticia, Gomez, Uncle Fester, Grandmama, Wednesday, and Pugsley come off as rather comforting.
Which brings us to the super-sized success of The Addams Family musical on Broadway - a hit-and-a-half with theatergoers drawn to Addams's stylized magazine cartoons, the 1960s sitcom (where the formerly anonymous characters received their names), the two popular Addams Family movies that debuted in the '90s, and/or a combination plate of all of the above. The musical, it seems, is the oozy green icing on the cake.
Puns, Pratfall, and Dark Humor
"Aaahh...the intoxicating spell of graveyard," observes Gomez (Tony-winner Nathan Lane) in the first moments of the show. "The cracked headstones, the dead flowers, the pitter-patter of little rat feet. Makes a man feel bad to be alive."
Instantly the stage is set: We are entering the Addams family's convoluted mindset where good is bad, cemeteries are dance halls, a giant squid makes an ideal house pet, and mom lovingly calls her only son "my little cockroach."
Mom, aka Morticia, is played by another Tony-winner, Bebe Neuwirth: reed-thin in a body-hugging dress that defies description (okay, Gomez does remark that it's "plunging all the way to Venezuela," but that's just part of the ongoing romantic banter that defines the two as a couple; it hits its zenith when the pair "Tango de Amor" to cheers from the audience.)
Playfully transporting Addams's bigger than life (make that "death") characters - and yes, leviathan Lurch the butler (Zachary James) is a vital part of the mix - to the modern musical stage was accomplished by the same team that gave Broadway Jersey Boys: Marshall Brickman and Rick Elice, who co-wrote the book, while Andrew Lippa provided the music and lyrics. And, while some of the dialogue and lyrics may fly over the heads of the very young, no one's apt to miss out on the basic humor, which is physical, pun-infested, and vibrantly visual.
Acting Normal?
As for the plot, it follows a now-teenaged Wednesday (Krysta Rodriguez), who finds herself in the throes of romance with one Lucas Beineke (Wesley Taylor), whom she met in Central Park while shooting pigeons with her ever-present crossbow. Teetering on the brink of anti-Addams sentimentality and style (she shows up at one point in a bright yellow dress), Wednesday convinces her eccentric family not only to have Lucas's unsuspecting parents (played by Tony-nominees Terrence Mann and Carolee Carmello) over for dinner, but to do the unthinkable and "act normal" for the evening.
Suffice it to say the result is a gloriously hilarious night of clashing quirks and skewered values that somehow resolves itself to everyone's satisfaction by the final curtain.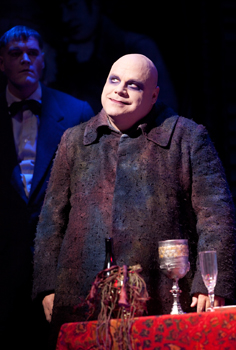 Uncle Fester Speaks
Last spring, not long after The Addams Family made its Broadway debut at the Lunt-Fontanne Theatre, journalist Linda Tagliaferro conducted an interview with actor Kevin Chamberlin, whose amiably warped interpretation of the production's rotund, electro-magnetic narrator, Uncle Fester (who just happens to be infatuated by the Moon) is a true kid-pleaser.
Chamberlin's ability to win over the kid set came across loud and clear when he originated the role of Horton the Elephant in the 2001 Broadway production of Seussical, for which he received a Tony nomination. Notably, this past June, the popular actor received one of show business's biggest accolades: a caricature on the wall at the iconic Sardi's (234 W. 34th Street). Check it out when you're in the neighborhood seeing The Addams Family.
Here is a sampling of Chamberlin's take on his character, the show, and its multi-generational appeal that is making it one of the hottest tickets on Broadway today:
Kevin Chamberlin as Uncle Fester

"I imagine Fester is the uncle that the kids go to when they have a secret. He understands children because he has this childlike playfulness about him - he finds glee and happiness in everything."
"It's interesting how kids react differently than adults to the show because the whole comedy is coming from inversion: where black is white and life is death and death is life. Children can't really understand that, so they enjoy it. As one of my friend's kids described it: 'a family of monsters.' And I think they tap into that because everyone thinks their family is weird - and they embrace it!"
Looking for family activities in Manhattan? Visit our Online Calendar of Events.