LEGOs take over the Bronx Zoo this summer in an interactive new exhibit that's perfect for families.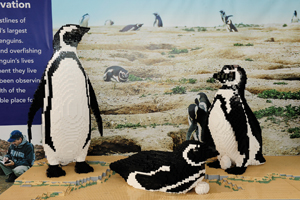 The Wildlife Conservation Society's Bronx Zoo is taking visitors on a conservation journey this summer as The Great Summer Zoofari: A LEGO® Wildlife Expedition (July 1 through September 30) brings amazing LEGO wildlife sculptures to the zoo to meet their real-life counterparts.
The expedition brings to life the challenges faced by wildlife due to habitat loss and threats to their survival. Its goal is to inspire visitors to help build a future for wildlife.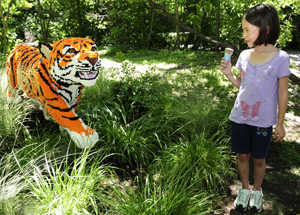 LEGO Master Builders have created a safari of LEGO block wildlife sculptures that will be on display throughout WCS's Bronx Zoo. Visitors can journey through the park with their complimentary Zoofari passport and enjoy all of the LEGO creations including a tiger, Chilean flamingos, a gorilla mother and child, penguins, a giraffe, and Khansi spray toads while learning about the real animals and WCS's work to save wildlife and wild places around the globe.
Each guest will be given a Zoofari passport to help them plot their adventure through the zoo and guide them to each of the LEGO displays. Participants can stamp their passport at each of the six stations located throughout the park.
There will be a Build Zone construction area and interactive activities where visitors will be able to construct their own LEGO wildlife sculptures and take part in the construction of a mystery mural. Guests can work with LEGO Certified Professionals on one weekend each month of the program.
Wildlife Theater shows, crafts and activities with the Museum for African Art, and conservation learning stations will keep the whole family busy.
Build Zone
Children and families can create their own sculptures of animals (Thursday and Fridays) and help complete a LEGO mystery mural (Saturdays and Sundays).
Schedule & Location: Thursdays-Sundays 10:30am- 4:30pm at Dancing Crane Plaza
LEGO Certified Professionals will work with visitors on building LEGO wildlife sculptures.
Schedule & Location:
Saturday and Sunday July 16-17, at Mouse House Lawn
Saturday and Sunday August 20-21 at Dancing Crane Plaza
Saturday and Sunday September 17-18 at Dancing Crane Plaza
Bank of America Explorer Zone
Hands-on activities and educational displays will teach visitors about the tools of conservation. Visitors will learn how field scientists track animals in the wild with camera traps, how gorilla conservationists use data to determine which habitat areas to safeguard, and facts about animal diets. At the lunch tray station, kids can try their hand at preparing "lunch" for gorillas, tigers, and bears.
Schedule & Location: Daily 11am, 1pm, and 3pm at Reptile House Lawn
Disney's Animal Kingdom Villas
Immerse yourself in the wonders of the wild.
Schedule & Location: Daily 10am-4pm at the Dancing Crane Pavilion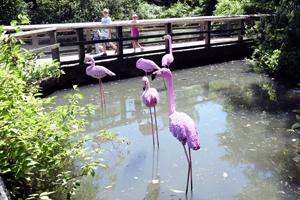 Workshops with the Museum for African Art/Tabilulu Productions
Participants can enjoy African crafts and music. On Saturday and Sunday, July 16-17 guests can make an African mask, and on Saturday and Sunday, August 20-21 they can make musical shakers. African musician Papa Susso will stop by at 1pm on Saturday, August 20 for a special performance.
Schedule & Location:
Saturday and Sunday, July 16-17 at Dancing Crane Plaza
Saturday and Sunday, August 20-21 at Dancing Crane Plaza
Wildlife Theater Shows
WCS's outdoor Wildlife Theater shows incorporate conservation and nature lessons with puppets and music for audiences of all ages. This summer's shows include Journey to the Pond, Passport to Conservation, and Butterfly Trek.
Schedule and Location:
Daily at Wild Asia Plaza - additional shows at the Children's Zoo on weekends. Showtimes: every half-hour from 11am-4pm except for 1pm
The Wildlife Conservation Society's Bronx Zoo is open daily from 10am to 5pm weekdays, 5:30pm weekends. Admission: $16; $14 seniors 65 and up; $12 children ages 3-12; free children under 3. Parking is $13 for cars and $16 for buses. The Bronx Zoo is conveniently located off the Bronx River Parkway at Exit 6; by train via the #2 or #5 or by bus via the #9, #12, #19, #22, MetroNorth, or BxM11 Express Bus service (from Manhattan that stops just outside the gate). To plan your trip, visit bronxzoo.com or call 718-367-1010.
Also see: Family Outing: Fort Montgomery State Historic Site
Our Online Calendar, for even more upcoming family events in the NYC area