We've rounded up some of the best events for children and families happening this December in Brooklyn. Catch a kid-friendly show or join in a holiday celebration - get all the details here!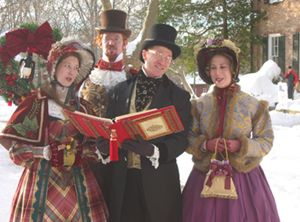 Reasons to be Cheerful
This holiday season, there's an explosion of seasonal spirit and events around the city. Check out these nearby options.
Historic Richmond Town is where to look for Christmas spirit in an old-fashioned kind of way. Their Christmas in Richmond Town and Traditional Tree Lighting event features carolers, storytellers, food, holiday merch, and photo-ops with jolly St. Nick. December 5. 10am-5pm. Historic Richmond Town, 441 Clarke Avenue, Staten Island. 718-351-1611. www.historicrichmondtown.org.
Stop by St. Nicholas Day at the Wyckoff Farmhouse Museum for a decidedly Dutch spin on things. The historic homestead captures the holiday spirit by honoring the Dutch settlers who once lived there. For example, they spell Santa Claus "Sinterklaas," and the event features Dutch holiday stories. December 4. 10am-4pm. $5; $3 children. The Wyckoff Farmhouse Museum, 5816 Clarendon Road. 718-629-5400. www.wyckoffassociation.org.
For something more theatrical, there's Wintuk from Cirque du Soleil. A holiday performance in every sense, Cirque's brilliant acrobatics and daredevil-like stunts help tell the story of a boy searching for winter spirit. The show features the kind of special effects and music that embodies every Cirque du Soleil production. Through January 2. Times vary; check website for schedule. $30-$220. Madison Square Garden, 4 Pennsylvania Plaza (Seventh Avenue and 32nd Street), Manhattan. 212-465-5800. www.thegarden.com.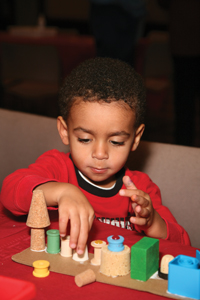 Festivus (for the rest of us)
Seinfeld fans may recall how George's father battled the Christmas onslaught by inventing his own holiday, dubbed Festivus. Let that serve as a reminder that other holidays do indeed exist.
Hanukkah is celebrated fully at the Jewish Museum's Hanukkah Family Day, where children will create menorahs and dreidels, listen to holiday stories, see a puppet show, and hear live music. December 5. Noon. $12; $10 seniors; $7.50 students; FREE children under 12. The Jewish Museum of New York, 1109 Fifth Avenue, Manhattan. 212-736-3062. www.thejewishmuseum.org.
Theater and comedy fans young and old will enjoy Latke's and Applesauce: A Hanukkah Musical Review, which includes songs and scenes from some of New York's funniest comedy writers. You'll find a Hanukkah version of A Christmas Carol, as well as a Hanukkah-inspired parody of Harry Potter and American Idol. December 5. 11am. $20. Merkin Concert Hall, 167 West 67 Street, Manhattan. 212-501-3331. www.kaufman-center.com.
Kwanzaa: A Celebration of Family, Community, and Culture celebrates the African-American holiday with learning, storytelling, and crafts. December 27. 12:30-1:30pm. $7.50 museum admission. Brooklyn Children's Museum, 145 Brooklyn Avenue. 718-735-4400. www.brooklynkids.org.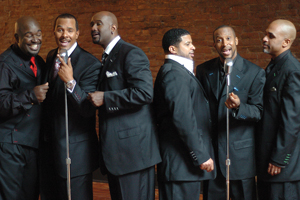 Sing Out!
Take 6, the acclaimed vocal group that manages to make six guys sound like a big band or a 120-piece symphony, comes to town in a concert titled Take 6: We Wish You a Merry Christmas. Their lush chords and amazing mimicry of instruments (walking bass lines notwithstanding) bespeak their vocal prowess. Their take on holiday chestnuts will groove with jazz, R&B, and soul. Expect a toe-tapping evening. December 11. 8pm. $42; $32. Brooklyn Center for the Performing Arts, 2900 Campus Road. 718-951-4500. www.brooklyncenteronline.org.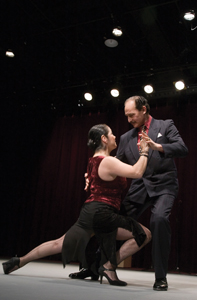 Happy Feet
In a combined program, Capoeira Luanda and Ballet Los Pampas draws from dance traditions of both Brazil and Argentina. Dance Brazil performs the stunning art of capoeira, an ancient Brazilian fusion of martial arts, dance, and music, while Ballet Los Pampas blends folklore, musical selections, and the legendary Argentine dance, the tango. December 18. 11am. $19; $13 children. Symphony Space, 2537 Broadway (between 94th and 95th Streets), Manhattan. 212-864-5400. www.symphonyspace.org.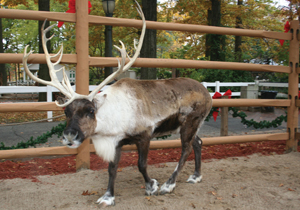 Reindeer Games
See some actual reindeer and marvel at their similarity to Rudolf. Actually, reindeer are the same as Caribou, a species that differ from other deer in size, plus the fact that both the male and female carry antlers. They are native to North America and Northern Europe in places where it is very cold. The reindeer are visiting the Staten Island Zoo through January 4. Zoo admission: $8; $6 seniors and students; $5 children under 15; free for children under 2. Staten Island Zoo, 614 Broadway, Staten Island. For more information: 718-442-3101 or www.statenislandzoo.org.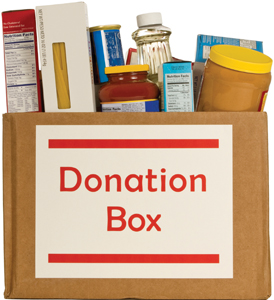 Food Donation
Whether it's an unwanted coat or a can of soup, donating goods to those in need should be on everybody's holiday to-do list - and when you're ready, City Harvest makes it easy. You can organize a food drive in a school, apartment building, office, or institution, and City Harvest will pick up any collection of food (see the donation guidelines) weighing more than 100 pounds. Anything less can be dropped off at a local firehouse, police station, Modell's sporting goods store in NYC, or at the Daily News building lobby at 450 West 33 Street in Manhattan. Promotional items such as posters can be downloaded from the website. For more information, visit www.cityharvest.org.
Also see: Our Online Calendar for even more family events in the New York metro area
2010 Nutcracker performances in and around Brooklyn