Related: camelbak mountain resort, tannersville pennsylvania, family vacation, outings, mountain coaster, camelbak mountain waterpark, cbk mountain adventures,



Camelback Mountain Resort, a great family vacation destination in Tannersville, PA, is now home to the Mountain Coaster. It is the first mountain coaster in the Pocono Mountains. Learn more about this fun new Camelback thrill and gather up the family for a great time!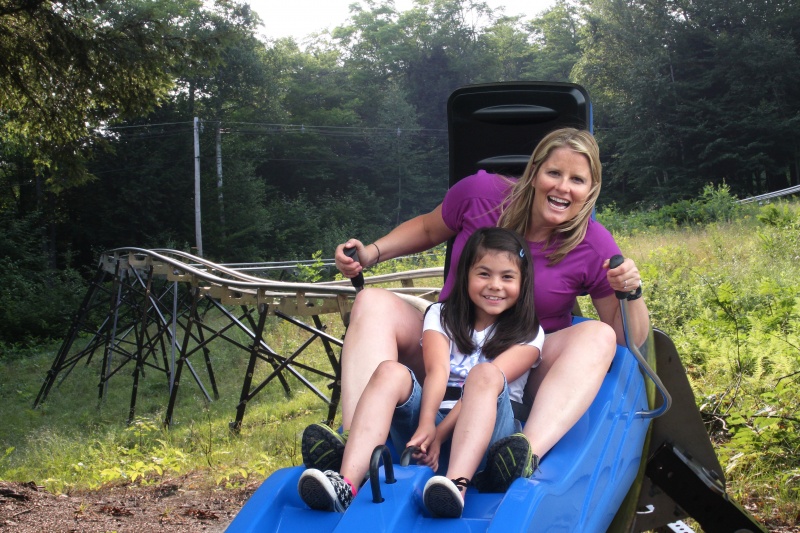 Love roller coasters? Now you can love them even more by controlling the speed and the experience yourself with a Mountain Coaster coming to CBK Mountain Adventures, with a launch on Aug. 16, 2012. CBK Mountain Adventures now offers guests more interactivity and even more fun.

The Mountain Coaster features a 4500-foot stainless steel track that reaches 38 feet at its highest point, with two vast 360 degree turns. The coaster is a year round attraction that provides amazing visibility of the mountains, skiers, swimmers, sun worshippers, Flowriders, bungee jumpers, zip liners and more.

"The Mountain Coaster is on a low impact track that is staked to the ground, providing an environmentally friendly, ecologically sound experience," explained Ken Ellis, President of Aquatic Development Group and co-owner of Camelback Mountain Resort. "This is the wilderness and it's important to keep it that way."

The Mountain Coaster's system pulls the car, which seats two people (maximum weight 300 lbs) up the ski slopes of Camelback on the track. The journey "up" takes about 5 minutes as guests gain lots of visibility of the area. Gravity takes over as you reach the top, but you control the speed and the brakes as you head down, gaining maximum speeds of 25 to 30 mph.

You must be at least nine years and older, and a minimum of 52" to ride the Mountain Coaster by yourself. To ride as a passenger, you must be at least 3 years old and 36" tall with a driver of at least 18 years of age.

Arthur B. Berry III, owner of Camelback Mountain Resort added, "Camelback Mountain Resort is the place for fun 365 days a year. We opened the longest, twin Zip-Flyers in North America in April and now the Pocono Mountains' only Mountain Coaster." Berry continued, "We are committed to continually improving our brand and bringing fun for the entire family to the Pocono Mountains."

Safety is paramount on the Mountain Coaster and is built into the system. Get too close to the car in front of you and the brakes will automatically come on. Take your seat belt off, and again the brakes will come on for protection.

The Mountain Coaster joins the twin Zip-Flyers as two new family thrill activities introduced in 2012 as part of a 3 million dollar expansion this year to CBK Mountain Adventures. That follows on the heels of a 3 million dollar expansion at Camelbeach Mountain Waterpark in 2011.
---
Get Your FREE Indoor Activity eGuide!
---
More Travel Articles
Life-Size Gingerbread House at Great Wolf Lodge Poconos Benefits Charity
Seven Vacations for Families with Children with Special Needs
Family Vacation in Albuquerque, New Mexico
Family Travel: Scrapbooking Your Family Vacations
Traveling with Kids: How to Stop Backseat Whining

Be a good fellow parent and share this with a friend who would be interested
Local Travel Sponsors
See Our Travel Directory