Enter the photo contest, Imagine Me and You, for a chance to win a trip to Australia for an exclusive photo shoot with world-renowned Anne Geddes.
Launched this week, Million Moms Challenge, along with ABC News, United Nations Foundation, Disney Baby, and Anne Geddes, are hosting a photo contest, Imagine Me & You, offering two adults and a baby the chance to win a trip to Australia for an exclusive photo shoot with Anne Geddes, a world-renowned photographer.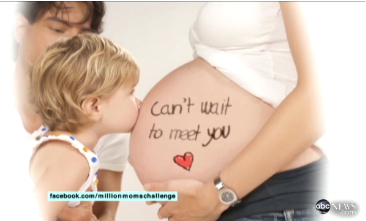 The contest is designed to celebrate the dream that mothers across the world share: to have healthy, happy babies who will grow to reach their full potential.
"To illustrate the importance of love and family in the earliest stages of life is a message that I stand behind and feel privilileged to experience every day," said Anne Geddes, who, as part of the U.N.'s Every Woman Every Child initiative, is committed to raising awareness about the need to improve women's and children's health in developing worlds.
Enter the Contest

Expectant moms in their third trimester can upload a picture of their baby bump on Million Moms Challenge's Facebook page. An original, creative message that cpatures their wishes and dreams (in five words or less) for their little one should be written on their bellies. View all the submissions in their photo album.
Votes will be taken from December 6-15. Three finalists will be announced on December 16. Anne Geddes will personally select the grand-prize winner in January. The winning mom and newborn will be the stars of a private portrait shoot with Anne Geddes in her Sydney, Australia studio.