CARAMEL APPLE PUMPKINS RECIPE
Related: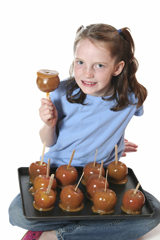 Here's a treat that turns an apple-y tradition into a seasonal delight!
What you'll need:
5 medium Macintosh apples
5 green wooden craft sticks (you can dye plain craft sticks with green food coloring)
4 tbsp water
2 14-ounce packages of caramels, roughly 96 pieces, divided into two microwave-safe bowls
1 cup orange jimmies
5 green pipe cleaners

Directions:

Step 1: Wash and dry apples, then insert stick into stem end of each apple.

Step 2: Microwave one package of the caramels and two tablespoons of the water in a small, deep, microwave-safe bowl on HIGH until smooth. Stir every minute for approximately three minutes. If caramel sauce is too thin, let stand about two minutes before dipping apples. Dip apples into hot caramel sauce, turning until well coated. Scrape excess sauce from bottom of apples. Place coated apples on a tray covered with wax paper lightly coated with cooking spray. Refrigerate one to two hours before proceeding to Step 3.

Step 3: After refrigerating, repeat microwave and dipping directions with remaining package of caramels and two tablespoons water. While the second caramel coating is still warm, roll caramel apples in orange jimmies to coat. Store in the refrigerator until hardened, then wrap with clear plastic. Take a green pipe cleaner and twirl it around a pencil to make curled stems. Use the pipe cleaner tendrils to secure the plastic wrap.
More Halloween Articles Articles
7 Tips for Trick-or-Treating with Your Toddler
New Book Encourages Kids to Give Up Halloween Candy
Halloween Activities in Bucks County, PA
DIY Alien Monster Egg Halloween Decoration
Toddler-Friendly Halloween Events in Fairfield County, CT