Related: theater, broadway, Annie, Andrea McArdle, les Miserables, acting,




She hasn't been Little Orphan Annie for 32 years, but that role was only the beginning for New Rochelle resident Andrea McArdle. 

BroadwayWorld.com recently honored her with a Lifetime Achievement Award, following her many years of great performances in musical theater, including

Les Miserables

,

Beauty and the Beas

t,

Cabaret

, S

tarlight Express, State Fair, Gypsy, Jerry's Girls

, and

Annie Get Your Gun

.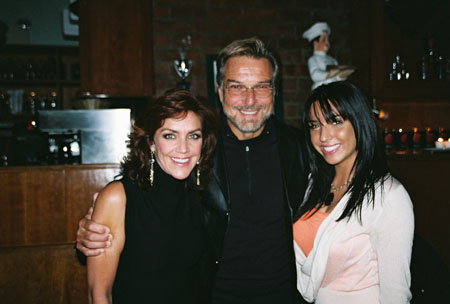 It turns out talent runs in the family. Last fall, McArdle reprised her Broadway role as Fantine in

Les Miserables

at the Ogunquit Playhouse in Maine. Her 20-year-old daughter, Alexis Kalehoff, who's a student at Westchester Community College, joined her in the role of Eponine, following her earlier Broadway role as Cosette at age 8. 

   It's clear that the Annie role, for which McArdle was the youngest Tony Award nominee for lead actress in a musical at age 13, is still dear to her heart.  She enjoys being invited to local productions of Annie and even throws numbers from the show into her current cabaret act. In 1999, she appeared in the Disney movie version of

Annie

.

   Now 45, McArdle spoke with us about how she got her start, living in New Rochelle and raising Alexis. Her husband, Edd Kalehoff, is a composer who has written music for television shows. She also has two stepsons, Max, 30 and Rex, 26.

   We caught up with the singer and actress, who will be in the city on March 7 to teach a one-day Annie workshop to young thespians at the award-winning acting studio, A Class Act NY (see page TK, citybounds).



How long have you been living in New Rochelle?  You mentioned you lived in Chelsea (NYC) for 25 years.


   Since Alexis was 3, so 17 years. We had both places. We lived on 24th Street. We found the house because our boat was at the Hayes Harbor Club; the house was right in back of it. It was an 1840s carriage house.  We bought the place and then fixed it up. Now the boat's in Florida in the winter, but it lives here in the summer. We sail all over.



What kind of activities do you enjoy doing together as a family in the neighborhood

?
   We're starting to stay more in New Rochelle because it has had a resurgence of business; Trump is building here. It's getting a lot of the charm back. I like this part of Westchester because it feels like an extension of the city. You're so close. New Rochelle is a melting pot here. We go to a lot of the museums. The City Center in White Plains recently opened; they have a great performing arts center there.  New Rochelle's Council for the Arts is really picking up. We're excited that we have Whole Foods out here now. And very soon we'll have Fairway!



Do you keep in touch with any of the orphans from the original

Annie

cast?


   As a matter of fact, Shelley Bruce, who played the role after me (she played the role of Kate initially), called me at 9:30 this morning. All of us have families, but we always talk. We get back together. It's like any childhood friends.



Was your daughter a big

Annie

fan? Did she listen to the original cast recording growing up?


   No. When Alexis was 5, my father called me. He got her the CD and played her the clips of the Annie Christmas Special on NBC, right before the Saturday comics came out. She had never heard it and he was furious with me.



Did Alexis go to school in New Rochelle?


   She started kindergarten here. She went to Blessed Sacrament in grade school, and then went to New Rochelle High School, which I think the world of. She did go to PPAS (Professional Performing Arts School) for two years. She started auditioning and getting her group of friends and getting her feet wet and seeing if she liked doing it (performing).  We let her dabble a little bit.



Was she always a singer like you?


   No. She was young to do Les Miserables. When she was asked (about performing) before she saw

Les Miserables

, she never wanted to do any of it. Which was so funny why a show like

Les Miserables

would hit her so hard. It's still her favorite show.



So when she saw it, she knew she wanted to get into this?


   She said, "Can I get up there and do that?" We were like, you have to wait until you're 7.  That used to be the rule (to star on Broadway).



What was it like when Alexis auditioned for Cosette?


   I was doing State Fair on Broadway. I broke 20 bones in my right foot. I was sidelined for a couple of months. So we did it then. I let her go in during the summer… just to see… but she just absolutely loved it. She went in three times, I think, before they cast her, because she was really young and not particularly small.



Do you think theater can be a tool to enable kids who are shy to break out of their shell?


   Theater can be a tool to teach a kid poise and confidence; that is my biggest reward that we got from Alexis in letting her do

Les Miserables

. The way she was able to handle herself with people after that… you can't put a price on it. My daughter would go see

Forbidden Broadway

while I was doing

Beauty and the Beast,

and walk across the street and take my credit card and go see the show. Ten years old, just going to the theater.  She would just go and see a show with one of her girlfriends, or with my brother, or they would just go to Virgin Records and go eat at Joe Allen's. It was a fun life. It was kind of like Eloise at the Plaza!



Alexis in Times Square?


   Yeah! Each week when the kids were in

Les Miserables,

one parent would take all the kids out. Whenever it would be my turn, I'd take them to go eat Chinese food at Ollie's. And then they'd go play Hide and Seek in the Marriott (Marquis).  All of the kids in all of the shows; they'd hang out, run around, then go back and do the evening show!



Did you and Alexis always sing together around the house?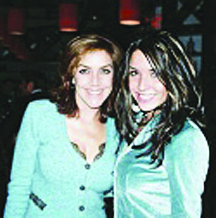 No, the idea of performing with your parent is the least appealing thing. But we enjoy singing together now.  Our voices meet in certain areas and you don't know if it's me or her. We sound very much alike.



Did you ever take vocal lessons? Your voice always sounds so natural.


   I took vocal lessons from a man in Philadelphia. But they were very, very informal. I never did notes or scales. I actually may start to go study now, because I don't understand what happens to a woman's voice after 50 years old. The reason I don't go to teachers is because usually they say, "Oh my god, you sing totally wrong." And I'm like, "Well, when I sing like the way you tell me to sing, I sound like everybody else. I want to sound like me."



How did you get into singing?


   I wanted to get in a contest at a recreation center. I just got a little 45 on the record player and learned to sing a song. I don't think I was particularly good. But then in two years, I got really good; because it's all I wanted to do. I grew up in Philadelphia. We had twin houses, so there were people kind of close by. And my voice was so big that I would go into the car and sing into a towel; I would never sing out loud at my house!  You could hear me down the street.  



Did you come into the city to see Broadway shows? Was there a moment where you said, I want to be on that stage?


   The first Broadway show that I saw was actually starring Debbie Reynolds called Irene. I was blown away by the whole thing. And then,

Gypsy

came with Angela Lansbury to Philadelphia. And I wanted to audition for the show. I got the role of Louise in that production.  My parents would not let me go on tour and I was very upset. I had a younger brother who was four years younger so it was like, we can't just pick up and ditch everybody here. I just did not understand.



How old were you?


   I was 9. But it was crazy that I was getting these things, because I had just gotten into the business. Sometimes it's the right place, right time.



How did you get started in acting?


   I was a gymnast. A talent manager came to the gym where I was working out. I auditioned for a Cheerios commercial, but I didn't get it. I went in for a soap opera audition. It was called S

earch for Tomorrow

and I won best juvenile actress. I had no experience.



What kinds of projects do you have going on now?


   I'm doing a lot of symphonic concerts and I'm waiting for the next show. I'm actually putting together a whole thing for the act. I have this great old footage of all of these performances. It shows good things and embarrassing things, so I really want to make that part of the show!
   I'm looking to do straight plays and TV and film. That's where I started. I would love to be on

Ugly Betty

. I could play myself!  I feel I need to do TV and film to come back to Broadway.



Why did you decide to do the Annie workshop?


   I do it kind of often. It's something that seems really natural. There's a very specific way that (director/lyricist) Martin Charnin and (composer) Charles Strouse auditioned everyone. Only a girl who's been through it would know.


More Culture/Entertainment Articles
Family Theater: 'Dear Edwina' is Back in New York
Theater Review: Broadway's 'Elf: The Musical'
Children's Theater Review: Freckleface Strawberry
Movie Review: The Kids Grow Up
Children's Theater: Cool Fall Shows in NYC - October 2010

Be a good fellow parent and share this with a friend who would be interested
Local Culture/Entertainment Sponsors
See Our Culture/Entertainment Directory