Related: bronx zoo, tigers, tiger triplets, birthday, donate, gift, tiger cubs, Amur, Malayan,



The Wildlife Conservation Society's Bronx Zoo invites visitors to a Big Cat Birthday -- celebrate the one-year birthday of the zoo's Amur and Malayan tiger triplets by donating gifts like meatcicles, knucklebones, and other tiger treats.

Bronx, NY - July 8, 2011 - The Wildlife Conservation Society's Bronx Zoo has created a different kind of gift registry to celebrate the one-year birthday of the tiger cubs at the zoo's famous Tiger Mountain. This registry includes gifts you won't find anywhere else including knucklebones and meatcicles, along with more familiar items such as Calvin Klein Obsession for Men.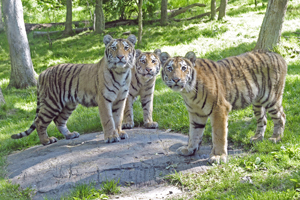 The zoo is offering the public an opportunity to provide them with gifts -- customized toys and treats which are part of the zoo's enrichment program. To help celebrate this one-year milestone, visit bronxzoo.com to purchase a surprise for these young tigers.

The six cubs include two sets of triplets - three Amur tigers and three Malayan tigers. The Malayan tigers were born on April 5, 2010, and the Amur (Siberian) tigers were born on May 22. The last litter of Amur tigers born at the Bronx Zoo was more than 13 years ago; and this is the first litter of Malayan cubs ever exhibited at the Bronx Zoo. The six cubs are now powerful adolescents.

Enrichment items include a knucklebone for a $10 donation; a frozen meatcicle for $25; Calvin Klein Obsession for Men for $50; and a treat spinner for $100. Each item provides these curious cats with a challenge - from gnawing on a knucklebone, nuzzling against a tree scented with cologne, or figuring out how to get a meatball out of a puzzle.

The Bronx Zoo's enrichment program is designed to exercise the muscles and minds of the animals. Each donation will support enrichment programs for the tiger cubs and the other animals in WCS's zoos and aquarium.

Tigers are a critically endangered species with fewer than 3,500 remaining in the wild - only 1,000 of which are breeding females. The six tiger cubs at WCS's Bronx Zoo are ambassadors for their species.

The Wildlife Conservation Society has conducted ecological studies on tigers since the 1960s and has a long history of protecting these big cats through the establishment of protected areas, increasing enforcement against poaching, and public education. Wildlife Conservation Society continues to work across Asia safeguarding tigers throughout their range.



The Wildlife Conservation Society's Bronx Zoo is open daily from 10am to 5pm weekdays, 5:30pm weekends. Admission: $16; $14 seniors; $12 children ages 3-12; free children under 3. Parking is $13 for cars and $16 for buses. The Bronx Zoo is conveniently located off the Bronx River Parkway at Exit 6; by train via the #2 or #5 or by bus via the #9, #12, #19, #22, MetroNorth, or BxM11 Express Bus service (from Manhattan that stops just outside the gate.) To plan your trip, visit bronxzoo.com or call 718-367-1010.
More Local News - Westchester County Articles
Your Driver Is Here Offers Car Service for Minors
Clay Art Center Begins Saturday Drop-In Class
The Milestone School Begins Weekly Capoeira Class
JCC of Harrison Offers New Early Childhood Programs
Westchester's Ridge Hill Welcomes Santa to Town at North Pole Adventure

Be a good fellow parent and share this with a friend who would be interested
Local Local News - Westchester County Sponsors
See Our Local News - Westchester County Directory