Get to know Gossip Girl star Kelly Rutherford, a Manhattan mother of two. Here, Rutherford discusses her career, her charity work, and what it's like being mom to Hermes and Helena.

The Facts
At Work: Actress. One of the stars of CW Network's top-rated Gossip Girl. Other TV credits include NBC's E-Ring, Melrose Place, and the 1940s drama Homefront, for which she received both an Emmy and a Golden Globe nomination. Rutherford's film work includes Scream 3, I Love Trouble, and the indie feature Swimming Upstream. Screen credits in noteworthy short films include The Tag with Djimon Hounsou and Disturbance at Dinner (filmed in black and white) about a blind girl who finds love by listening to her heart.
At Home: Manhattan. Mother of two: son Hermes, 3 1/2, and daughter Helena, 1.
Charity Work: Rutherford supports the (RED) campaign through Bugaboo, which helps women and children living with HIV in Africa; Healthy Child Healthy World, an organization devoted to inspiring parents to protect young children from harmful chemicals; and, beginning this fall, she will become involved in the Cedars-Sinai Women's Cancer Research Institute.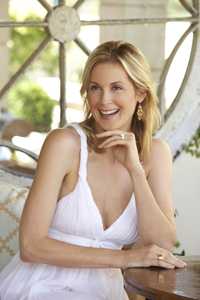 Although she plays Lily van der Woodsen, mother of teen "it girl" Serena van der Woodsen (Blake Lively) on the super hot CW series Gossip Girl, in real life, Kelly Rutherford's mom duties skew to a considerably younger demographic: her toddler son Hermes and her 1-year-old daughter Helena.
And, like most mothers of the very wee, Rutherford is a sucker for pretty much everything they say and do.
"I love being a parent. Just hearing the word 'mama' warms my heart. I love when my little girl holds my hand, or my son says 'I like you,' " she notes, adding that she's also totally enraptured when Hermes comes to her with questions. "I see the two of them as little Buddhas here to teach me things. I adore every second of it."
In fact, just last September Rutherford's passion and dedication to her role of mother earned her the title of Big City Moms' Mom of the Month in New York City, an honor that afforded her the opportunity to share her personal experience in the mommy sector: "My advice is to breathe. The more we plan the better, and that helps us deal with the spontaneity that we must have as mothers. To be the mother we want to be is a journey of learning. Be the individual you are."
Rutherford is also a dedicated environmentalist who avidly recycles, uses Seventh Generation products in the home, eats organic foods, and drives a Prius. In a Q&A for The CW Green Campaign, she expressed hope that her active involvement in the green movement would have a trickle-down effect that would impact her family.
"I can look at my children and know that I am doing my part for their future here on the planet," she says. And when asked what brought her to the decision of taking more steps to go green, she responded, "Having children. Also, just a preference for things that are real."
Despite her working mom status, Rutherford acknowledges that the high points in her workweek tend to revolve around her children. "There are so many wonderful moments in each day," she says. And, on the plus side, she hit the jackpot when it comes to her Gossip Girl schedule. "It's ideal for a working mom. It's an ensemble show, so I'm not in every scene, and I work two to three days a week," she points out. "Also, we have three to four months off a year - I could be working more, but I want to be there for my kids. It's my priority."
Q. What is your favorite activity with your kids?
KR: We love to play - we go to the park, we make art projects... and we love to cuddle and watch movies like Ponyo. It's all about togetherness.
Q. What is the most important lesson you try to impart to your children?
KR: I try to teach them to have good manners; to say "please," "thank you," and "no, thank you" if they don't like something. I want them to use their words as much as possible.
Q. Who was your greatest child raising influence, and why?
KR: I have so many! From my own mother to Dr. Allen Green for nutrition. Golden Bridge Yoga has a great selection of parenting books. A good one that is out right now is called The Natural Child: Parenting from the Heart by Jan Hunt. I highly recommend it.
Q. What is your approach to discipline?
KR: I take time to sit down and explain things - and I listen. I think nowadays, because we're all so rushed to get things done, it's important to take the time to really converse with your child.
Q. What was a memorable family outing?
KR: All of our family outings are my favorite! Most recently, we went out to breakfast and my son wanted to dress up as a fireman, and so he did! I let him be imaginative. It's little things like that that make life memorable.