Spring is almost here! Time to put some spring into your winter skin! Time to start getting your skin in shape for the warmer weather. Here are 4 tips to get the skin on your face and your body looking its best in this new season:

1. EXFOLIATE, EXFOLIATE, EXFOLIATE. Your face AND your body! Make that dead, rough, winter skin go away! It acts like a barrier between your healthy skin and the rest of the world; moisturizers and sunscreen cannot penetrate through that dead dry skin, either. For your face, exfoliate about three times a week using an exfoliant containing rounded spheres. They will lift off the dead skin but won't scratch the healthy skin underneath. GENTLY massage the beads around your face (don't "scrub" hard). My new favorite is Pure Hapa's Sweet Papaya Facial Exfoliant (3.30-oz for $38 or 1-oz for $16). It contains Azuki bean powder, Hawaiian botanical papaya fruit enzymes, and jojoba beads that leave your skin super smooth and soothed. If you're pregnant, try using Basq's Rebalancing Facial Cleanser. It cleans and exfoliates in one step. For your body, exfoliate, in the shower, about twice a week. I just adore Klean Bath & Body's Sugar Body Polish ($11.50-$34.50). Available in more than 20 different delicious and decadent flavors, this polish leaves your skin super smooth, major-ly moisturized and refreshed! Loaded with yummy-smelling essential oils, it feels as delicious as it smells. If you want to indulge in a little extra pampering, Miano Viel Salon and Spa also offers a wonderful Body Polish Gommage ($175). An esthetician massages and exfoliates your body at the same time.
2. GET A GOOD MOISTURIZER WITH A HIGH SPF. And start using it immediately. The more hydrated your face and body, the better. Hydrated skin looks healthier, smoother and fresher. And the high SPF in the moisturizer will protect your skin against the sun's damaging rays throughout the spring and all year long. For your face, try Eucerin Extra Protective Moisture Lotion, SPF 30. It's oil-free, fragrance-free, ideal for sensitive skins, and best of all, it onlys cost about $9. Also consider Illuminating Whip Moisturizer SPF 20 ($14.99), which moisturizes and brightens the skin with minerals and optical light reflectors. Another great facial lotion is Peter Thomas Roth's Max Sheer All Day Defense Moisture Lotion-SPF 30 ($42). This moisture lotion contains ceramides, ginkgo biloba, and antioxidant micellized vitamins A and E. For your body, try Olay Body Age Transform Intensive UV Defensive Serum ($9.99), Somme Institute Double Defense Face and Body SPF 30 ($48), or DDF Organic Sunblock SPF 30 ($28). All of these are very moisturizing, so there is no need to apply a separate body moisturizer — making them great time savers.
3. GIVE YOUR LIPS AND CHEEKS THE FLUSH OF SPRING. Add a tint of color to both lips and cheeks with Mommy Makeup's Barely Blushing Lip & Cheek Tint ($18)! This oil-free creme/gel blends to a beautiful sheer stain on both lips and cheeks. It moisturizes and conditions as it adds just a hint of color. It dries to a stain so it gives your cheeks that just-flushed look. And best of all, you can kiss your kids and spouse over and over and the color will not transfer on to them! Available in two shades: Barely Buff and Barely Rouge.
4. SPRING CLEAN YOUR SKIN. By getting a facial or doing an at-home deep cleaning mask. For a great facial, Miano Viel Salon and Spa offers a Purifying Cleansing Facial (50 minutes, $145), and Bliss Spa offers Steep Clean (105 minutes, $280). If you prefer to "spring clean" at home, consider SkinCeuticals Clarifying Clay Masque ($37). It can be used on the face, neck and chest, and it combines natural earth clays with a hydroxy acid blend to decongest pores, lift impurities and oils, and exfoliate the skin. It's suitable for all skin types.
Once you've done these four tips for your skin, you will feel spring in the air much sooner (even if the groundhog saw his shadow, meaning six more weeks of winter!).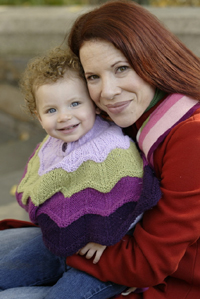 DEBRA RUBIN-ROBERTS is an award-winning makeup artist, and a New York City mom. After she gave birth to her daughter, she discovered she needed to shorten and simplify her daily beauty routine -- leading her to create Mommy Makeup for Chic Moms on-the-go! For more info on Debra and Mommy Makeup, go to www.mommymakeup.com or call 1-877-MOMMY98.