Freckleface Fun

Freckleface Strawberry, the popular kids' book by actress Julianne Moore, comes to vibrant, musical life Off-Broadway.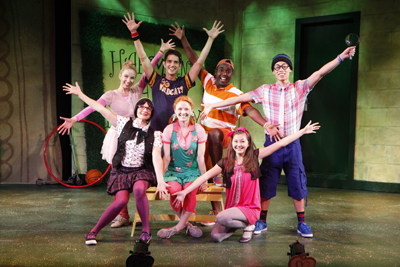 Freckleface Strawberry the Musical may be only 70 minutes long, but that doesn't mean the excited hodgepodge of kids filing in the door of New World Stages' Theatre #4 don't want a snack before and during the show. At least that seems to be the idea behind the 20-something vendor strolling the aisles suspendered to a smorgasbord of Skittles, Milk Duds, M&Ms, bottled water, "and more!"
Once the lights come up, though, the only flavor on everyone's mind is strawberry - not the fruit or candy variety, but rather actress Julianne Moore's popular kid-lit character, Freckleface Strawberry, come to life as a bubbly 7-year-old whose wish of all wishes is to be free of the umpteen freckles that make her stand out - and (gasp!) look different - from her classmates.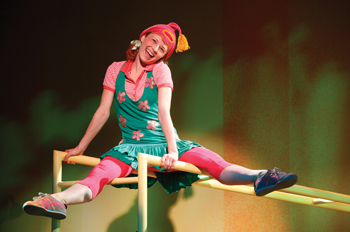 "When I wrote the book, I took ideas from [my] childhood and kind of added to it. Now the character is a completely separate being from the 7-year-old self I was," says Moore.
Still, the Academy Award-nominated actress's perceived "ugly duckling" years were the catalyst for her delightfully amusing Freckleface Strawberry books (a second one is already out, and Moore just completed the third in the series, with a fourth in the planning stages).
In her IMDb bio, she's quoted as saying, "In grade school I was a complete geek. You know, there's always the kid who's too short, the one who wears glasses, the kid who's not athletic. Well, I was all three."
No mention of the red hair and freckles, but clearly those two key characteristics took on a life of their own in the book, and are now blissfully front and center in the musical courtesy of actress Hayley Podschun, who brings Strawberry to life. (FYI: The play features adult actors as children. The casting is so perfect, though, that suspension of disbelief flies out the window within seconds of the opening number.)
In the stage production, each character has a developed personality and a trait or two that makes him or her unique in their own ways. The ballet girl (Jessica Bishop) is insecure when outside of her dance comfort zone; Emily (Kimiko Glenn) is the girly girl with a crush on Danny (Joey Haro), the school jock; Jake (Andrew Cristi) is the science nerd, rarely without his oversized magnifying glass; and Harry (Mykal Kilgore) is an "everykid" who has a fabulous turn as Don Fontaine, a breakdancing freckle who, along with other humanoid freckles, pop out of Strawberry's imagination singing:
We are not nasty warts, we mean you no harm
We hang out on your face, body, legs, and your arms
We just want to be...friends with you...can't you see / We love you Strawberry...
Rounding out the cast is Linda Gabler as the book-wormy Jane, who is actually triple-cast, delivering a lovely performance as Strawberry's mom as well as the kids' teacher in a memorable classroom scene that features the number "Be Yourself."
Those familiar with the first book will no doubt find this adaptation relatively true to the original. And while the narrative is tweaked in parts to make it more stage-friendly, the message of learning to love one's perfect imperfections clearly comes across.
The credit for this goes to Rose Caiola, founder of Manhattan Movement & Arts Center, who conceived the show initially as a workshop with children before opting to cast adults for the professional run. The show receives kudos for the rest of the creative team, including Gary Kupper, who wrote the infectious music and lyrics and collaborated with Caiola on the book.
Cleverly, Caiola and Kupfer introduced a smattering of contemporary references - Facebook, Sponge Bob, video games - but it's when Strawberry decides to wear a scratchy, knit, winter face mask to hide her freckles and identity that the book and musical come together, culminating in the song "The Kid in the Mask:"
Who could he or she really be?
Maybe a spy or a celebrity?
We want to know
Who, who, is the kid in the mask?
Eventually, everyone admits they're "Different...just like everyone else..."
I saw a matinee on a school day, so the kids in the audience were mostly 3-, 4-, and 5-year-old girls. Still, the handful of boys present were equally attentive, probably because they too were represented onstage. And (for the first time in memory!), there were no squirmers or restless chatterers. The kids were enthralled. So were the grown-ups. So was I.
"I never thought it would actually become a musical!" declares Moore. "It's so nice to see how moved and involved the audience gets, especially children, when watching theater. That's been very exciting to watch."
Freckleface Strawberry the Musical is currently playing at New World Stages (340 West 50th Street, between 8th and 9th Avenues).
A Very Special Ticket Deal
Normally, tickets for Freckleface Strawberry the Musical are $68.50, but as a NYMetroParents Insider you get special access to tickets as low as $30!
Special Discounts
Family 4-pack (valid for all performances!): Purchase 4 or more tickets together, $30 each
Single tickets for weekend matinees: Saturday, 11am or 2pm; Sunday, noon or 3pm shows, $45 each
Single tickets, other days: Wednesdays, 2pm or 7pm; Thursday and Friday, 7pm; and Saturday 4:30pm shows, $35 each
3 Easy Ways to Order
GO ONLINE
For 1-3 tickets: Visit BroadwayOffers.com and use code FSMETRO810
For 4-8 tickets*: Visit BroadawayOffers.com and use code FS4FAMETRO
CALL 212-947-8844
For 1-3 tickets: Mention code FSMETRO810
For 4-8 tickets*: Mention code FS4FAMETRO
*Limit 8 tickets per order. Family 4-pack offer is for four or more tickets purchased at the same time. Standard Telecharge service fees apply to phone and online orders. All sales are final; no refunds or exchanges. Blackout dates may apply. Not valid on prior purchases and cannot be combined with any other discounts or promotions. Offer subject to availability and includes a $1.50 facilities fee. Offer may be modified or revoked at any time without notice.