At ClassWish.org, teachers can create an online Wish List of the supplies they need for their classrooms. Members of the community can visit the site and make a tax-deductible donation to help bring these much needed supplies to local schools.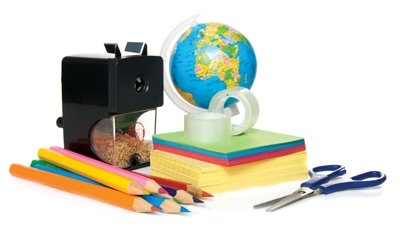 Schools around the nation are facing huge budget cuts, which will put overwhelming pressure on our already squeezed and struggling schools. Grappling with dwindling resources for supplies and equipment for their students, many teachers have taken matters into their own hands, and spend hundreds of dollars of their own money to buy supplies for their classrooms.
Now there's an exciting and smart solution to this problem.
The new nonprofit ClassWish at www.classwish.org gives teachers, school administrators, and PTA/PTO officers the opportunity to create an online Wish List of the supplies they need for their classrooms (from more than 50,000 items currently available from an online catalogue) at no charge. Structured like a wedding registry, the Wish List can be visited by parents, students, alumni, local businesses, churches, community groups, or other supporters who want to contribute to their local schools. The donations are tax deductible.
Here's how it works: A middle school art and music teacher at School of the Future High School in Manhattan posted a list that includes pencils, Sharpies, tangrams, lanyard, and yoga cards. A seventh grade English teacher in Long Island City is requesting water colors, colored pencils, and an arts and craft pack. A pre-K teacher in Bushwick needs a record and CD player, several reading systems, a fitness CD, and easy reader biographies. Visitors can select the item or items they want to purchase for the teacher, click on the "donate" button to contribute, and see the tally of money raised and the amount remaining. The donated supplies are sent directly to the school.
Laurie Coots, chief marketing officer for TBWA and a member of the ClassWish Board of Advisors, says, "I'm personally involved because ClassWish has demonstrated that they understand how to use web-based technology to match needs with gifts, and in doing so, they have designed an elegant and simple environment that helps. Many small acts solve a very big problem."
ClassWish also provides customizable emails and printable flyers to help teachers spread the word to their communities, so they can start getting the supplies they need. Contributing groups or businesses can create a profile page on the ClassWish website, showing their support for the organization and garnering some good PR in the process. Many companies will match employee contributions, and that can double the funding.
Says Coots, "For teachers and schools, ClassWish is the next best thing to Santa Claus - making it easy to grant deserving wishes to teachers and schools, and helping them to deliver the promise of a good education to students."
For more information, visit www.classwish.org.