The Bronxville Adult School is offering SAT, ACT, and PSAT test prep classes for students this fall in southern Westchester.
Wouldn't it be nice not to have to drive your kids long distances to test prep classes or pay for expensive in-home tutors? And wouldn't it be nice to know they were receiving their tutoring from someone mentioned in the NY Times as "knowing a million test prep tricks"? The Bronxville Adult School is excited to be offering, for the first time, test prep classes for students in southern Westchester. In conjunction with WilsonPrep, the BAS will be offering classes for the three major tests -- PSAT, ACT, and SAT.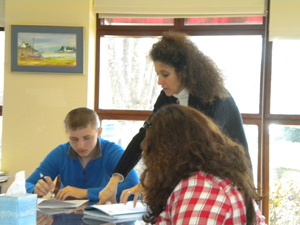 The classes will be held at the Bronxville School on Tuesday nights this fall, from 6:30-8:30pm. First up will be a five-week PSAT course, starting September 13, followed by a six-week ACT course and then an eight-week SAT course. Students can register for any or all of the three. Enrollment includes free WilsonDailyPrep, a set of online daily questions to further aid preparation.
The courses will be led by WilsonPrep of Chappaqua, recognized as an innovative and dynamic leader in preparation for college admissions exams. Founder Laura Wilson has authored numerous test prep books (including Write the SAT Essay Right) and has tutored for more than 20 years.
Laura feels that test prep is all about building self-esteem. "A good test prep teacher motivates through dynamic, engaging lessons so that students can go into the exam and answer with confidence. Any student with practice and the right instruction can improve significantly. I hold students accountable to daily and weekly practice because I know it is the practice and utilization of strategies taught in class that produce results."
WilsonPrep has produced those results consistently since 2001. One happy Chappaqua parent said "the program (daily prep, practice exercises, key ideas etc.) was very effective for my daughter. Wilson Prep is the place to go for SAT tutoring!"
A student from Mt. Kisco was equally pleased. "Your classes inspired me and made me really want to practice. The reading strategies really worked, and I used your essay outline the day of the exam. Thank you for pushing me and continuing to believe that I could do better."
Come and meet Laura Wilson and have your questions answered on Tuesday, September 6 from 7-8pm in the Bronxville School Multi-Purpose Room.
Registration is limited. You can register on line at www.bronvilleadultschool.org, by mail or call the BAS office at (914) 793-4435, Monday to Friday, 9:00am-12:00pm to register by Visa, MasterCard, or check.