One former Manhattan mom talks about her surprisingly enjoyable adjustment to life in the suburbs.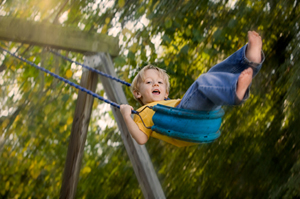 Psst... psst... Over here. Yeah, me, the new mom in the back of the PTA meeting. Don't tell anyone this (I have that cool Manhattan mommy thing to keep up), but I have a confession to make: I don't miss the city! In fact, I don't miss the city AT ALL!! There it is - it's out there. And it feels oh-so-good to get it out.
Yes, I was the consummate New York City mommy. I got myself all dolled up, every single day, and carried three kids, 12 bags of snacks, six water bottles, three towels, two changes of clothes, and every outdoor toy ever known to man down two flights of stairs - along with my stroller. Happily (so I thought), I pushed my two little girls in the supreme Peg Perego double stroller with my older son hanging off the back, riding on a skateboard - everywhere. I'm not entirely sure, but I think the total weight hovered around 500 lbs. I pushed those children E-V-E-R-Y-W-H-E-R-E. I pushed that monstrosity straight from 79th and East End Avenue clear across to 108th and Broadway in a neverending search to find "activities." I pushed those three lovely (yet most times, screaming) children to every free museum, sing-a-long in Central Park, library story hour, trial gym (well you can't pay for everything when you have three kids), and playground that the big, wonderful city had to offer. By the time all of my kids were walking, I was strong enough to lift a small walkup apartment building without breaking a sweat - while sipping my Starbucks!
"Bare feet all year long and nothing to worry about stepping in?!"
But this probably sounds familiar, because you were me once. You know who you are. We have ex-city-mom radar - we can pick each other out of a crowd, we lock eyes across a crowded Costco and share a knowing smile as we navigate the aisles in Target. But I digress. I think what I'm trying to say is: I always just assumed life had to be schlepping, and then a little more schlepping. Now a lovely yellow bus comes and takes my children away for seven hours. Seven hours! And it promptly delivers them back to my driveway, where they hop on their bikes to go find treasures in the woods. I don't have to lift a finger. I don't have to do a thing - except maybe supply some refreshments. (Don't even get me started on my obsession with Rockland Bakery! Where have you been all my life?!)
When we left the city, friends warned us that our children wouldn't ever have freedom. What??? My children have never known freedom until now. Bare feet all year long and nothing to worry about stepping in?
One freezing night this past winter, about 5 months into our move to Rockland County, I glanced out my window. A huge puddle of melted snow had frozen into a lovely little ice rink on my driveway. I watched my 10-year-old son out there in the dark, wearing full-on hockey gear, lace up his skates and just go for it. Ice skating on your very own driveway? I could feel his happiness from inside that window.
I never felt so content in my whole life. He took my breath away. I smile every time of think of that night.
Remember, don't tell anyone, but I'm not missing a thing!