When you're home from the hospital with a new baby, priorities change. Sleepless nights throw meal planning off-kilter, and once-simple meal preparations can become a chore.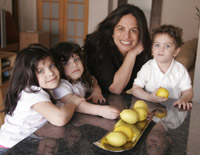 Upper West Side mom Karen Gurwitz had the idea of providing new moms with healthy, whole foods when she first became a mother. Her oldest daughter is 6; when she had her second daughter, Gurwitz fleshed out her business model, and by the time her third child, a boy, was born, Gurwitz herself was a customer of her business, Mothers & Menus.  Based in Manhattan, the company offers new moms throughout the five boroughs and beyond daily deliveries of fresh, seasonal, mostly organic food.  And now with a cookbook, The Well-Rounded Pregnancy Cookbook (Clarkson Potter, $16.95), Gurwitz offers pregnant women and new moms recipes and adaptations that are particularly well-suited to their needs.
   Gurwitz says the title of the book is a bit misleading; she feels the "whole foods" philosophy espoused in the book is "optimal for any time." Ironically, though, Gurwitz "grew up on white bread and mock chicken" and says, "I didn't even know that mashed potatoes didn't come out of a box until I was in my 20s."  But she is a self-described "big Sunday cooker", adding that weekly meal planning is an essential part of getting fresh, healthy food to the table.  She says she does a lot of freezing on the weekends, with fresh add-ons at dinner.  
   Gurwitz also gets her kids to help in the kitchen, noting that, "if they cut up the chard, they are more likely to eat it."  Also, she says, "with three small children, I have to keep them busy while I?m making dinner."  And Gurwitz admits, "There are times where you do need to call in for pizza.?"   The Well-Rounded Pregnancy Cookbook offers favorite customer recipes from Mothers & Menus, and includes interesting ways to change recipes based on how a pregnant woman is feeling.  There is "feeling green" for nauseated women, "feeling food" which helps honor cravings, and "feeling full" for those trying to make sure they don't gain too much weight. Carrot soup with coriander, curry and ginger can include more ginger for "green" eaters, and no potato or cream for "full". The pureed soup even makes for great baby food.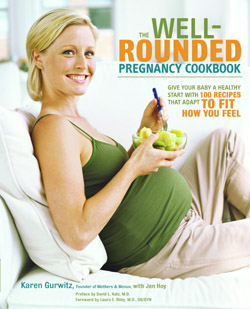 Gurwitz, who grew up in Montreal, takes advantage of her adopted city's bounty, shopping at the farmers' market with her kids and supplementing with Fresh Direct and Whole Foods. "I am not totalitarian, not 100 percent organic or farmers' market," she says.  Just like her Mothers & Menus concept, she is all about making things easier for a mom.
   Gurwitz decided not to go on a book tour because she wants to be around her kids, who are now 2, 5, and 6.  She has done cooking demonstrations at Whole Foods; one this month focuses on getting partners involved in the cooking.  This is not in issue in her own home; Gurwitz calls her husband her number one supporter and says she could never have written The Well-Rounded Pregnancy Cookbook without his help.
   For more information on Mothers & Menus, go to http:// www.mothersandmenus.com.