A Long Island native bikes more than 3,900 miles and raises more than $10,000 for MentorCONNECT, an online recovery support community.
When you say, 'I'm raising money for eating disorders,' you can hear a pin drop," says Emi Berger, who completed a cross-country ride, beginning at the Montauk Lighthouse on Long Island on September 23 and finishing in San Diego, California on November 15, for MentorCONNECT, a nonprofit that provides free mentoring and peer support to those struggling with eating disorders. The 54-day journey covered more than 3,900 miles on bike.
A competitive athlete, Berger also felt the only way to complete the ride was to also ensure it was going to be for a good cause-one that is close to her heart. The 34-year-old remembers how her friends in high school were affected by the national obsession to be thin and knew so many people who battled a form of an eating disorder.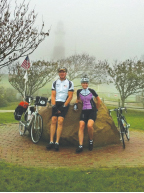 Emi Berger (right) and her friend, who finished the cross-country ride for a charity that was near to his heart, begin their journey in Montauk. Berger completed the ride in 54 days with more than $10,000 for the nonprofit MentorCONNECT. Courtsey Emi Berger.

"One of the few things I wanted to find in an organization was someone willing to go along with me...but I wanted to avoid certain words, which is, for me, any organization with the word 'anonymous.' One of the most devastating parts is when people remain anonymous and you cannot recover," Berger says. "It's one of those things I was so impacted by since my early teens...I realized the biggest evil to someone with an eating disorder is silence...you need to ask for help, you need to claim it as part of the recovery process."
Berger raised $10,000 for MentorCONNECT, which was started in February 2009 by Shannon Cutts, a survivor of a 15-year battle with anorexia and bulimia. Membership to the community is free and is open to anyone 14 and older.
"MentorCONNECT provides those struggling with a safe and easy way to ask for help and, with the help of a community of peers, finds ways to recover and rebuild their lives," Berger says.
According to the National Eating Disorders Association, the peak onset of eating disorders occurs during puberty and late teen, early adult years. But symptoms can occur as young as kindergarten. On MentorCONNECT, members take advantage of podcasts, online discussion groups, teleconferences with experts, while mentoring happens by email or phone.
"I believe everybody deserves at least one other person who understands," Cutts says. "In this culture, we are afraid of celebrating people with other disorders. Mentor-CONNECT also celebrates the recovered person-who is a hero."
For more information, visit www.mentorconnect-ed.org.