Interactive musical performers The Ohmies invite kids to "dance, stretch, and giggle" their way to the front of the stage for an exciting new act, "The Ohmies: Morning Wish Garden!" Through a fun combination of dancing, yoga poses, and tumbling, kids can help The Ohmies coax Mr. Sun to come out so their garden of wishes may grow.
Four year-old Isabella was super-psyched about being one of the first kids to bounce through the doors of the Peter Jay Sharp Theatre on 42nd Street's Theatre Row to check out The Ohmies: Morning Wish Garden! The interactive musical romp fest custom-created for the preschool set by husband and wife team Laurie Miller and Benjamin Tollefson was clearly right up her alley: popping with colorful sets and characters and promising a magical adventure propelled as much by the audience as the cast.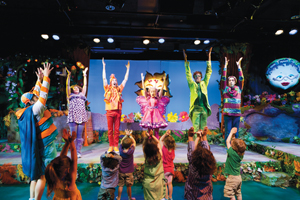 Dressed in her favorite pink play clothes, she skipped into the upstairs theatre where DJ Ti-Do Bird (Martin Landry) was perched stage right in his open-air sound booth, greeting incoming tots with cheerful hellos, music riffs, and a grab bag of different kinds of instruments.
And yes, Ms. Isabella did indeed head down to the front of the stage -- a giant-sized antimicrobial yoga mat offering parents and kids an up-close-and-physical area to "dance, stretch, and giggle" along with the Ohmies, an irresistible group of Technicolor BFFs from the animal kingdom. Initially leaving her adult companions (myself included) trailing behind, when she reached the mat she froze: the lights, the unfamiliar surroundings, the growing gaggle of tumbling three-to five-year-olds waiting for the show to begin...let's just say, a tsunami of shyness took over. Burying her head in her father's shoulder, she was whisked to the back row (yes, there are plenty of regular theatre seats beyond the yoga mat) where, after a few random tears and daddy cajoling, she sat quietly.
And then the show began. Suddenly Bella Butterfly (Jessica Stewart) and her kid brother Carlin Caterpillar (Hansel Tan) were center stage singing what was clearly a siren's song to itty-bitty ears. After 10 minutes of dancing in her seat (and sotto voce chuckles), Isabella could no longer bear being apart from the action and returned to the mat, never to stray again. (The remaining cast members are Kyle Scatliffe as Gisbert Grasshopper; Ashley Tobias as Daisy Dog; and Benjamin Fisher as Sylvio Snake.)


Beyond the Stage
According to Miller and Tollefson, few kids can resist the lure of the first in what will soon be a series of Ohmies stage adventures, CDs, and downloads...and more to come. "We definitely want to expand," they said in a recent phone interview, emphasizing their underlying mission: a health and wellness brand of entertainment for kids aged three to eight.
The couple's vision of fitness, fun, and family is brought to life during each performance of The Ohmies: Morning Wish Garden! through a variety of actual yoga poses and stretches (with kid-friendly nam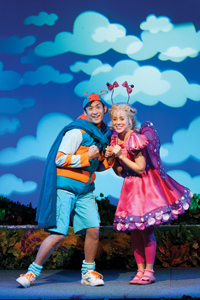 es); an irresistible sing-along score, a happy mix of pop, hip-hop, and salsa they wrote with Michael I. Weiss; and especially the kids themselves, who participate with abandon, suspend disbelief, and fall head-over-heels for the lovable Ohmies.
As for the show's storyline, it's a whimsical quest in which the audience joins the Ohmies on a trek from Marigold Meadow to Giggly Gulch to Bubble Bog to the Sock Forest and (finally!) to Sweeping Bluff, where Ohmies and the audience (who Miller and Tollefson call "the 7th Ohmie") give Mr. Sun a much needed wake-up call, encouraging him to shine his solar power on everyone's Wish Garden. (Spoiler alert: Wishes bloom throughout the theatre!)
"I think this show is a perfect first theatrical outing," opines Miller. "It's a unique and shared experience for parents and kids -- and kids and other kids. We've seen the youngsters make friends during the show and walk out holding hands. It's really something special."
Details, Discount, & Inside Scoop
Visit the show's website www.theohmies.com.
When ordering tickets, enter discount code OHMO4 to receive $5 off the regular $35 ticket price.
Put on your coolest and most colorful socks (or bring them along if you're wearing flip flops) and dress in your comfiest stretching and wiggling clothes.
Before heading to the theatre on the 4th floor, consider making a pit-stop on the
3rd floor for restrooms (there is an elevator)
On entering the theatre, stash shoes and stuff in the handy cubbies to your left, and march all the way down to the humongous antimicrobial fitness mat that covers the floor in front of the stage. If you're shy and don't want to join the other kids and parents on the mat, you can sit in the audience seats and still join in. (You can always change your mind and go down later.)
Take as many pictures as you like during the show -- and don't forget to have your photo
taken with the cast afterwards!
Location: Peter Jay Sharp Theatre, 412 West 42 Street
Running Dates: Currently running through September 25.
Performance schedule: Thursdays, 11am; Saturdays, 10am, noon, and 3pm; and Sundays at noon and 3pm (Call 212-279-4200 or visit website for any changes to schedule.)
Available free: Stroller parking
Available for purchase: Snacks, water, and Ohmie-licious merchandise (including butterfly wings)
Related Articles:
Five Fabulous Life Lessons Kids Learn from The Ohmies