Get in touch with nature this Earth Day with these fun and environmentally friendly craft projects for children and families.
It has become abundantly clear how important our environment is over the past few years, and Earth Day on April 22 presents a great opportunity for families to take care of the Earth together. Just ask Cherie Ingraham, founder of the Chuckie Goodnight Foundation for the Environment located in Brewster, NY, a non-profit organization dedicated to providing environmental education for children and preserving green space.
"Kids and adults are out of touch with nature," says Ingraham. She started the foundation to get children back in touch with nature, with the help of Chuckie Goodnight and his friends, a group of fun characters who care about the environment. Kids can find out more about Chuckie and his crew and learn about what they're doing to help our planet at www.chuckiegoodnightfoundation.org.
Ingraham recommends that families try to make every day Earth Day, and to recycle everything they can, even if it requires some imaginative thinking. "Think about the things you can do every day in your life to make a difference." With that goal in mind, Ingraham offers some entertaining activities to get you and your family thinking green this Earth Day.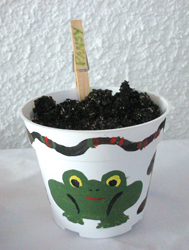 Container Garden
Take an egg carton, milk or juice carton, salad container, yogurt container, or any other old container you can find. Decorate the sides with pictures of flowers or insects, or your children's names, and poke holes in the bottom to allow for drainage. Then add soil and seeds. Write the name of the plant on a clothespin for a handy detachable label.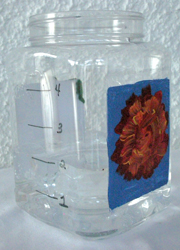 Rain Collection Container
For a fun way to measure rainfall and collect fresh rainwater for your new container garden, consider a homemade rain collector. On a large plastic container with a wide opening on top, mark one-inch increments on the side with a permanent marker and decorate the other three sides. Finally, place it outside where it can catch the falling rain. Be sure to tie it to a stake or put it in a shallow hole to prevent it from tipping.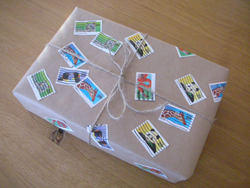 Recycled Gift Wrap
Make your own eco-friendly gift wrap for all those upcoming spring birthdays. Take plain brown wrapping paper, old magazines or newspapers, or whatever paper you have lying around the house. Dip a flower or leaf found in nature in paint and stamp it all over the paper to create a lovely print, or glue old stamps all over it to make it look well-traveled.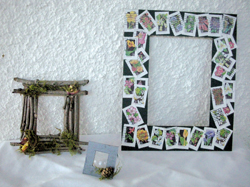 Recycled Picture Frames
Find some cardboard from around the house and cut it into a rectangle about an inch longer and wider than a photograph. Cut out the middle of the rectangle in the shape and size you want for the frame. Paint the frame the color you want for the background. Then, using glue, attach stamps, beads, or even leaves, flowers, and twigs from nature to create a collage to frame your family memories.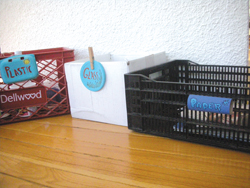 Recycling Station
To get your kids excited about recycling, let them create your new recycling station. Find three large containers, like boxes or milk crates-one for glass, one for plastic, and one for paper. Have your children decorate them with pictures of the kinds of items that are supposed to go into each one. With twine and toilet paper rolls or plastic lids and clothespins, create eye-catching recycled labels for each recycling bin.
For more information on the Chuckie Goodnight Foundation for the Environment, visit www.chuckiegoodnightfoundation.org.