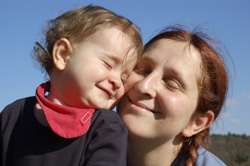 It ranges from the mild . . .
   "My high schooler's computer crashed when she was almost finished with a 10-page paper, due the next day," recalls Sarah Goldstein* from Mount Kisco. "I stayed up with her till 2am, helping her reconstruct it from scratch on my computer. It was horrible — I was suddenly inside her nightmare!"

. . . to medium . . .
   When Rob Lanzotta* in Sparkill, NY, threw his daughter's 12th birthday party, there was a two-foot snowstorm. Ice cream was being served when they found out one of the guests was lactose intolerant. "I proceeded to shovel my car out and drove 1/2 mile to the girl's house to get her pills so she could have the ice cream with the rest of the party. Her dad thought I was nuts but it was worth it."
. . . to extreme . . .
   Stock analyst Jack Grubman donates $1 million to the 92nd Street Y preschool in the hopes of getting his twins a spot in their highly coveted preschool program.  In a memo to a friend, Grubman writes, "For someone who grew up in a household making $8,000 a year and attended public schools, I do find this process a bit strange, but there are no bounds for what you do for your children."
. . . to ludicrous . . .
   Kids headed off to summer camp and, as The New York Times reported in July, moms all over the country headed to home computers to take care of campers' Webkinz pets.  Joan Selkow in Florida has three kids; every day she logged on to three Webkinz sites, feeding the little stuffed animals, playing with them, and taking care of their finances.  She admitted she needed to keep a log of all these daily tasks.  If a Webkinz died, the parent, apparently, paid a heavy price for neglect of duty.
. . . to penultimate . . .
And two women do perhaps the penultimate act.  In December 2004, Tina Cade from Virginia, 55, gives birth to her daughter's triplets — her grandchildren — after a near-decade of her daughter's suffering from endometriosis and six failed attempts at in-vitro fertilization. In October 2006, a Japanese woman, also in her 50s, gives birth to her own grandchild after her daughter has her uterus removed because of cancer.
   Go on, admit it . . . haven't most parents been guilty of some degree of "earthmoving"?  Never in the annals of parenting has child-rearing been so kid-centered.  And probably no place sees more examples of it than New York.
   The parents who refuse to let their infant out of their sight or sleep alone. The parent who sits down next to her child every evening to help, maybe even do, the homework.  The parent who runs 10 blocks to get to the neighborhood Kinko's before it shuts at midnight — to make color copies for a child's project due the next day.  The parent who spends ludicrous amounts of time and money on sports, gifts, plastic surgery or lavish parties for their kid?
   Are these actions noble, selfish, or just plain stupid?
More of the extreme
   In 1992, Texan Wanda Holloway, who had become increasingly frustrated with her daughter Shanna's lackluster attempts at making the high school cheerleading squad, took matters into her own hands and attempted to literally kill off the competition. The story became a Golden Globe award-winning HBO film entitled The Positively True Adventures of the Alleged Texas Cheerleader-Murdering Mom, starring Holly Hunter as Holloway.
   Like a sore tooth we can't stop wiggling, we watch MTV's My Super Sweet 16 to see how far some parents are willing to go for their child's birthday. Aspiring rapper Teyana Taylor from Harlem got her mom to throw her a lavish, '80s themed hip-hop bash at the New York Hall of Science last year. "I get whatever I want from my mom," Taylor boasted. "She's wrapped around my finger." The festivities included a marching band, dancers, a DJ, her doll-like outfit custom-designed by Heatherette (who has designed outfits for Gwen Stefani and Pink), $700 French sneakers, an $8,000 bike.  Taylor was the envy of all when she received a new Range Rover from rapper Pharrell Williams. In the post-show wrap-up, Taylor's mom confessed that she initially started with a budget of $125,000 for the party that "went out the window," and in the end cost roughly $305,000. "But it was worth it to see the expression on Teyana's face," she said. "I know this made her year. All of next year!" she added, with a laugh.
   On 20/20, John Stossel interviewed young girls who have undergone plastic surgery, paid for by their parents. "I don't really think you can put a price on your child's happiness," said Long Island mom Doreen O'Brien, whom Stossel interviewed in 2005 when she bought her daughter, Jennifer, $7,000 breast implants as "a gift of love".  
In the name of sports
   Parents of sports-involved kids can easily feel pressured to go to extremes. In recent years, my husband and I have emptied our pockets (along with my in-laws', although she is their first grandchild — and a girl) for our daughter's interest in basketball, which started in third grade at her school's clinic in Forest Hills.  In fourth grade, she joined the school's first all-girl CYO basketball team. Over the years, she has attended basketball camps, and this past year played on a traveling AAU (Amateur Athletic Union) basketball team based in Queens. In the last four months, we somehow coughed up money to bankroll attending weekend tournaments in Atlantic City, NJ; Hartford, CT; Poughkeepsie, NY; Junior Nationals in Hershey Park, PA, and many other destinations (it's all a blur). But the pride and joy I feel when watching her make a basket or grabbing the ball away from the other team never gets old — even if I am broke because of it.
   "The summer my oldest son, Tyler, was 14, his league team had a great season, and they made the playoffs," recalls Ed Rush from Elmsford. "Unfortunately, the first game was scheduled for the day after our family was to leave for a two-week vacation at the Jersey shore with our extended family. I didn't want my son to miss the playoffs, so I drove three hours back to New York with him; he played with his team and they won. But now they had to play in the next round of playoffs, which was several days later. We drove three hours back to the Jersey shore, and then three hours back again for the game — and they won again, which meant they had to play again. That summer, I drove to the Jersey shore and back four times, just so my son could play baseball!"
   "I think we hit the nadir the day my daughter took the specialized high school entrance exam," says Maggie Robinson* from Park Slope.  "She had a soccer game that day and missed her ride because the test started late.  My husband rented a car and I went to the school to get her.  It was the day of the NYC Marathon and you couldn't drive near the school, so we had to run across the marathon and get to the car.  Because it was a last-minute rental, the only car left was a luxury model, so it cost $350 to get her to the soccer game."  Robinson admits she had succumbed to pressure from other parents on the team. "When we said she might not be able to play, we got calls and emails urging us to reconsider. In retrospect, after losing the game and seeing my daughter crying on the field, we should have held firm and not allowed her to play." In another twist, Robinson's daughter got into Stuyvesant, but then decided not to go there.
   When Manhattanite Eileen Winston's* daughter, Lucy, advanced in skill as an equestrienne, they left the (now closed) Claremont Riding Academy on the Upper West Side to attend a stable in Scarsdale that offered a large, spacious ring and true one-on-one instruction. "Once a week, I would have to leave work early to pick her up at school in the West Village. We would cab to Grand Central to get on the commuter train to Scarsdale," recalls Winston. "From the station, we'd have to cab to the stable.  The lessons were wonderful, but by the time we would reverse the commute, it would be 9 or 9:30 by the time we got home. Dinner would be a sandwich on the train, and Lucy would have to spend the trip there and back doing her homework. When we finally arrive home, there was still a couple of hours' homework to do. I was exhausted; she was exhausted.  But I just figured that was what a mom had to do if you're living in the city and your kid wants to ride horses."
Extreme? Not so extreme? Just nuts?
   When JetBlue cancelled a flight from New York to Orlando because of an incoming snowstorm, Phil Izzo, an editor at The Wall Street Journal, was determined more than ever to take his wife and little girl on their first trip to Disney World. So he rented a car and drove with abandon down to Florida. On WSJ.com's blog, he wrote, "The thought did occur to me that this was probably the craziest thing I've done 'for the kid' since I became a parent. I'm not quite sure when I first realized this. It may have been when the car almost veered off a bridge during the ice storm that cancelled my flight. It may have been when I had to throw away my favorite shirt when I sleepily soaked myself with gasoline. Or it could have been when I was waiting for the very friendly Georgia state patrolman to write me a speeding ticket."
   Felice Griffin of New City, NY, has a job that finds her traveling 40 percent of the time, often missing her 10-year-old daughter, Emily. "I try often to fly back in time for school meetings or school performances," says Griffin, who admits she sometimes feels guilty being away. So much in fact, that on a July trip to London, after 12 days apart, Griffin booked flights for her husband and daughter to come over and join her. "It'll be her first time in Europe, and I miss her so much! This is the longest I've been away from her."
   John Rockford*, a Nyack, NY, parent, recalls when his 4-month old daughter had a crying jag after returning from a trip. "The baby started to cry and we had left her pacifier in Syracuse — the only one she would take. We tried a few others we had around the house, but she just continued to scream." Rockford proceeded on a "two-hour scavenger hunt around Rockland County that would have made the show The Great Race seem mild-looking." Upon returning, Rockford offered a substitute to his daughter, who had now fallen asleep from al the crying. "We called our friends the next day and they thought this was hysterical. They overnighted the 'Bink' down to us. The next time I saw a Bink in a store, I bought five or six of them — just in case."
   Allison Mulvey*, in Marine Park, Brooklyn, recalls how smothering a little one has taken a toll on her sister-in-law's marriage.  "She held the baby all the time. The child would never go in a crib or playpen, and she was basically a slave to the whims of the baby. Consequently, she let the child sleep in her bed every night, and after a while her husband began to sleep on the couch. The child is now 2 and will protest if she has to go in the car seat or stroller — so much so that the mother will change plans if the baby protests too much. It has impeded her life and her marriage greatly."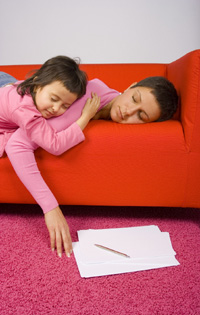 Why we indulge them
   "When parents go to those kinds of extremes," explains Jodi Porter, L.C.S.W., a clinical social worker in Mt. Kisco and Cordlandt Manor, "the child is missing out on developing coping skills that would help them deal with the emotional curve balls that life throws, as well as a missed opportunity to develop confidence. Parents may want to avoid a child being unhappy, but the ability to tolerate frustration is an important skill, because it allows a child to develop flexibility. A child may have a disappointment, get upset, and then they can get over it. It's a gift, and parents don't realize that. If a kid expects instant gratification, that life is always going to be easy, they're going to be ill-prepared."
   And let's face it, these acts in the name of our children aren't purely selfless. "Oftentimes there's over-identification with the child and the parent. Parents need to distinguish their needs from the needs of the child," says Nancy Samalin, bestselling author and internationally renowned parenting expert based in Manhattan. "A mom who always keeps her baby at her side is sending an extremely unhealthful message that daddy isn't important, her own needs aren't important, only the baby's. We think that what we need is what our child needs, because we don't recognize the child as a separate person."
   Helping a child with homework or a project is a recurring problem, says Samalin, because "today's society is so much more competitive and materialistic. Parents are so scared their kid is going to be normal, not exceptional. When the parent has invested more work [in homework, a project] than the child, even if the kid gets an A, that A means absolutely nothing to the child. They can't get any satisfaction at all."
   Samalin adds, "If you're going to help your child be a better person, you're going to have to be willing to be hugely unpopular with your child."
   Even when a parent just tries to keep the peace by agreeing to take care of campers' Webkinzes, "when parents spend all their time obsessing," pointed out therapist Jill Tipograph in the Times article, "they're not giving themselves a break to re-energize and be ready to parent again for another 10 months." Not to mention the lost lessons in teaching kids responsibility 24/7.
   So perhaps these women should have heeded Samalin's advice:
   In June of this year, Elisa Kelly of Virginia had her jail sentence for serving beer at her son's 16th birthday party reduced from 27 months to eight. "My boys don't think I'm a good mother; they think I'm the best mother!" she cried, in an interview with BBC News.
   In a similar scenario in July, a mom in Franklin, TN, was arrested after allowing a bunch of teenagers, along with her own daughter, to drink beer and mixed drinks at her house. Said local official Brent Rose in The Tennessean, "Everybody has known that parent, the cool parent who has a house you can go to where they allow you to drink. It's hard to blame a teen when a parent's sitting there telling them it's OK to do it."  
*Not their real names