Update your Easter recipe repertoire this year with this delicious appetizer or side dish full of healthy ingredients and kid-pleasing decorations. Plus, check out our tips on how to get your kids involved in the kitchen.
Mild-Mannered Deviled Eggs

Sweet deviled eggs become inspiring palettes when the kids get to add edible decorations. If you don't mind colored egg whites, you can even use up your excess Easter eggs. Makes 24.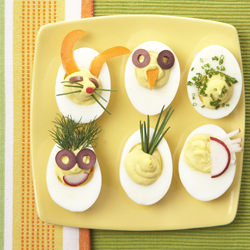 Ingredients:
12 hard-boiled eggs, cooled, and peeled
1/3 cup reduced fat mayonnaise
2 teaspoonsDijon mustard
2 teaspoonscider or malt vinegar
1 teaspoon mild mango chutney (optional)
1-2 cups baby greens (optional)
Your choice of toppings (see Topping Options below for ideas)
1 gallon-size zip-top plastic bag
1. Cut the eggs lengthwise in half. Gently scoop out the yolks, placing them in a medium sized mixing bowl.
2. Blend the mayonnaise, Dijon mustard, vinegar and mango chutney (if using) into the yolks. Taste and adjust the mixture (if necessary) by blending in a little more vinegar or chutney.
3. Spoon the yolk mixture into a gallon-size zip-top plastic bag, carefully squeezing it into one of the bottom corners. Use scissors to clip a small opening in the corner and squeeze out any air pockets. Squeeze the bag to pipe the yolk filling into the egg cups.
4. Sprinkle or decorate with toppings as desired. Optional: present the deviled eggs nested on a platter sprinkled with the baby greens.
Topping Options:
Thinly sliced carrots, beets, bell peppers, or radishes, halved or quartered cherry tomatoes, sweet paprika, mild curry powder, fresh herbs (dill, tarragon, chives, or basil), sliced pitted black olives, or Spanish olives.
Kids in the Kitchen:
An adult should do the knife work, but kids can have fun piping the yolk mixture into the egg halves and applying the decorations.
Let the kids cut the eggs in half by using a length of thread or floss. Just place the egg on a clean, flat surface and pull the thread down through the egg to halve it.
Use clean kitchen shears to cut fun shapes out of thinly sliced carrots, beets, bell peppers, and radishes.