Beginning Oct. 1, 2012 through Nov. 12, 2012, the New york Children's Theater Festival will be accepting submissions for its spring 2013 productions, encouraging people from all over the world to write live children's entertainment.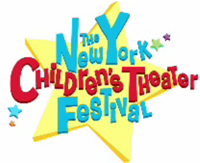 In its second year, The New York Children's Theater Festival provides a birthplace in New York City for new live children's entertainment from around the globe, and serves as a platform for writers and producers who are passionate about developing innovative theatrical experiences for children.
According to Lewis, "Our first season was a success and we saw some fabulous original productions. We are excited to grow even stronger this year and bring four shows to family audiences in New York. We encourage any playwright, anywhere in the world to send us their submissions of entertaining, original, exciting works for kids. Our team is ready to be dazzled by the quality and scope of work we know is out there."
The Festival is offering an early submission discount for entries received by Oct.12. There is a $20 fee Oct. 1-12; $25 for those received Oct. 13-Nov. 12, 2012. The four winners will be notified Dec. 15, 2012.
The aim of The New York Children's Theater Festival remains to greatly widen the spectrum of existing theater offerings for children and bring new respect and heightened awareness to the art form and the artists involved. Lewis says, "We hope this festival will bridge the missing link within the theater community and help foster the growth of theater audiences of all ages."
The inaugural Festival last year reached over 1,000 audience members and has already seen results for its participants: Go Green! received Honorable Mention in the Jackie White Memorial National Children's Playwriting Contest (Columbia Entertainment Company, Columbia, MO), and Scheme of the Super Bullies is in the planning stages of launching a local tour through The Sarah Lawrence College Theatre Outreach Program.
The New York Children's Theater Festival will premiere April 19, 2013 and run through May 12, 2013. It will feature four winning submissions who will produce their works for the New York City stage. Musicals, plays, puppetry, event presentations, and any other live theatrical form of children's entertainment are encouraged. Work that has been previously produced may also be submitted for consideration. For submission forms and details, visit www.newyorkchildrenstheaterfestival.org.
All submissions will be read by a team of 30 industry professionals including artists, writers, producers and designers from leading national theaters, Broadway, and children's television. The finalists will be judged by a Festival Panel of ten top industry leaders including Michael Jung, Vice President of Theatrical Development at Walt Disney Imagineering, and John Tartaglia who has been nominated for an Emmy Award (creator, star of Disney Channel's Johnny and the Sprites), Tony Award (Broadway's Avenue Q), and Drama Desk Award (creator, producer, and voices for John Tartaglia's ImaginOcean).
The New York Children's Theater Festival is filing as a 501(c)3 non-profit organization.
About the founders:
Michael Shawn Lewis received a 2011 Drama Desk Award nomination as producer of John Tartaglia's ImaginOcean, the internationally- acclaimed children's musical Off-Broadway and on an international tour. He has co-created and produced family entertainment for Royal Caribbean and Carnival Cruise Lines and serves as a consultant to Walt Disney Imagineering. As an actor his credits include The Phantom of the Opera and The Woman in White on Broadway; Elisabeth - the Musical, Les Miserables, and numerous productions of Phantom in Europe; and a number of Off-Broadway productions including This Side of Paradise.
Chelsey Shannon was the marketing manager of Play Me a Story, a New York children's storytelling company, and co-founded Rumpus Children's Theatre in Manhattan. As a performer, she worked around the country and in NYC in numerous productions for Theatreworks USA, Working Man's Clothes Productions, The New School, The Sam French Festival, The New York Theatre Workshop, Columbia Stages, Prime Stage, and The City Theatre, among others.
Renee Barnett has toured with ArtsPower National Touring Theater in several children's productions and has worked as a music teacher with a variety of children's centers throughout the city. She is also a piano teacher for children with special needs. She co-founded Rumpus Children's Theatre.